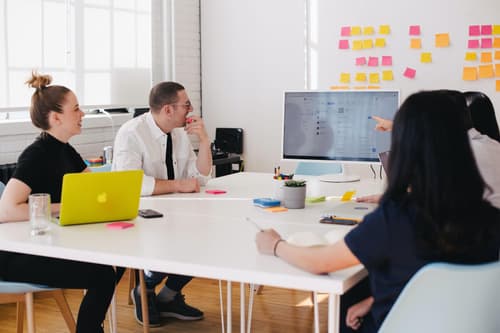 As has been the case across the professional world, it's now clear that the global pandemic has radically shifted many of the traditional office-based workplace practices. While companies have faced huge difficulties throughout the uncertainty, COVID-19 has been a catalyst for change and new opportunities.
At INSTANDA, our mission involves empowering insurance companies — and their people — to provide personalised insurance protection and peace of mind. With people at the forefront of our approach, we truly believe that achieving our goals starts with a positive, future-focused company culture.
Continue reading to learn about how the ever-expanding team at INSTANDA is adjusting to new company culture and workplace norms.


Where Does the Value Lie in a Progressive Insurance Company Culture?
According to Deloitte, insurers across the globe are still in the early stages of underwriting transformation projects involving automation, manual data gathering and administrative tasks.

The ultimate goal is to leverage emerging technologies like AI, no-code software, predictive analytics and alternative data sources to enhance insurer capabilities. The traditionally slow-moving insurance industry is going through big changes.
On top of that, and in relation to workplace culture, successful insurance organisations are increasingly acknowledging that company values and culture can no longer be cultivated solely in the same old office-centric model. At INSTANDA, we recognise the value that hybrid working styles (split between office-based and remote work) holds.
Adapting to this new model of work might seem straightforward in theory, but in practice, the reality is slightly different. Throughout the pandemic, we've conducted "tester days" with a few members of the team working in the office and others working remotely to help identify potential obstacles and challenges.


Making a Success of Future Working Styles
Communication and training play an essential role — but alone aren't enough to drive change and success. To achieve a high-performing hybrid workplace culture, PWC outline five fundamental elements:

Make sure purpose, vision and values are clear and actionable

Align company vision across the entire organisation

Engage the whole organisation in conversations around workplace culture

Baseline workplace behaviours and measure progress over time

Embrace change to reinforce behavioural change as employee preferences shift.
So, how is INSTANDA putting that theory into practice with future working styles?


The Three Core Team Working Styles at INSTANDA
1. Face to Face
Time split: 3-4 days hub time, 1-2 days remote time every week.
Typically our team has a significant amount of face-to-face time with clients and partners. To support our clients, we host a mixture of informal and formal meetings in our office to engage specialist team members. At other times, we go to our clients to support them directly.
In the office, our people have access to a mixture of fixed desks and informal / formal meeting spaces.
2. Collaborative
Time split: 1-2 days hub time, 3-4 days remote time every week.
Our specialist team members are assigned tasks to complete for the company and our clients. The majority of their time will be spent developing insights and focusing on specific tasks at hand whilst working remotely. When they come in to an INSTANDA office we encourage collaborative work and create the working environment to support this.
3. Agile
Time split: 2 days hub time every 2 weeks, with the remainder of the time spent working remotely.
Our work involves developing and driving key repeatable processes, which means planning, emailing and streamlining our systems is vital. Working remotely works well to help manage different internal and external stakeholders on projects, but factoring in some time every fortnight helps support peaks of activity and bring teams together for those important moments of human connection.


The Benefits of Flexible Working Practices for Employees
Job Satisfaction. Data suggests that twice as many workers feel enjoying their jobs (84%) is a better measure of career success than a high salary (42%). Regardless of their role, we've seen that employees who report high job satisfaction are typically happier and more productive.
Work-Life Balance. Did you know that 53% of employees consider having a job that affords them a greater work-life balance and better personal well-being a priority? With a flexible approach to working styles, employees can stay focused and make their workspace work for them.
Minimised Stress and Burnout. Stress, overworking and poor work-life balance undermine success, collaboration and job satisfaction. An agile and collaborative working style with remote and in-person contact time provides an essential balance.


How Does INSTANDA Support Employee Working Preferences?
Embracing hybrid working styles will undoubtedly need to be rethought, recalibrated and adapted over time. During the initial transition, it'd be easy to forget that we're seeing two very different worlds (remote and office-based) merging after operating almost exclusively virtually.
Currently, we want to encourage our people to choose the best approach for them. With our guidance, we encourage employees to push administrative days or tasks into the days where they're working remotely. The reason for this is to create capacity during in-person hub time to build connections, establish relationships or networks throughout the organisation and make space for collaboration.
By helping our team optimise their time, we aim to allow both worlds (in-office and remote) to work in harmony.
In line with our values and company mission, we strive to support our diverse and talented team from a range of backgrounds — but all with a similar attitude and passion — with a working style that empowers them to find the best solutions for our clients.


Reflecting a More Flexible World Through Collaboration and Connection
At INSTANDA, our objective is to provide a supportive and flexible approach to working that allows us to grow with our people and clients. We're passionate about finding the best solutions for our clients and achieving meaningful results, and our team prides itself on honesty about requirements and our product strengths.
We'd love to hear from you. Get in touch today with our team of friendly professionals to become part of INSTANDA.
Kick-start your journey by requesting a demo of INSTANDA.