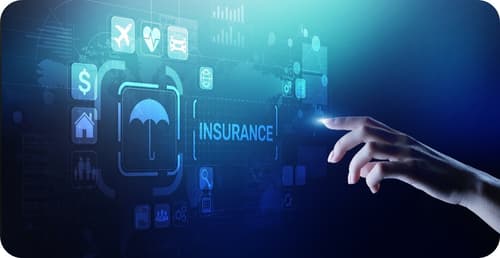 The insurance industry is in a constant state of evolution, and recent factors are further accelerating this paradigm shift. Innovation in technology and changing customer expectations are part of a host of changes that broaden the scope of what is now possible within the sector. Elements such as changing consumer expectations, climate change disruption, and the global pandemic have all contributed to an insurance experience that is evolving at breakneck speed, and if carriers aren't able to keep up with transformation, they run the risk of being left behind. This blog highlights the key areas of change we have noticed in the insurance space.
Insurers need agility

The insurance sector, while mature, has been traditionally slow to embrace new technology. Legacy systems that may have been operational for decades are no longer the best apparatus for effective, speedy processing. The designing, testing, and launching of products must now happen within a matter of weeks or months, rather than years, if insurers intend to keep up with new areas of coverage.
To suit a wide range of niches, companies require dynamism and agility to adjust their products accordingly to satisfy their customers' needs. The infrastructure that a carrier uses to achieve this will be a key factor in their success.
No more reliance on developers and IT departments

Today's insurance companies, brokers and MGAs are searching for new ways to become more efficient. One of the catalysts for change in this area is the introduction of no-code and low-code software: simplified methods of product development that allow the opportunity to innovate at scale by changing how they deliver products to market. No-code software allows insurance companies to digitize their insurance product timeline, without writing a single line of code.
Insurers no longer have to rely on tech savvy engineers to build or launch complex new products. Instead, business users can utilize templates and guides to create products that are fit for market. No-code and low-code software lends members of a company the means to build quality insurance products with a fraction of the expertise, saving time and money and allowing businesses to reinvest these resources into added value for their end customer.
Putting the customer first

Insurance products need to be aimed at providing the highest level of customer experience possible for those they serve. The online landscape is awash with on-demand entertainment, click-of-a-button purchasing and instant food delivery. However, the insurance space hasn't adjusted to these changes, with many customers waiting days or weeks for a simple quote.
The increasing pace of technological evolution allows for advanced customization and personalization of products to suit customers' needs. Insurers need to utilize innovation using methods that refine the human element of their company.
Data is king in today's industry
Knowledge is power, and datasets are a powerful commodity that are more widely available now than ever. To improve the insurance experience, data needs to be collected and utilized in the right way. Tapping further into this information reservoir, new AI capabilities have the potential to advance underwriting processes through machine learning.

Insurtech derived data can contribute to a flourishing insurance business, by learning about the key risks affecting customers and translating it into actionable insights. Utilizing this data will differentiate a company willing to remain stagnant from a business ready to leap into a new age of insurance.
From paper-based methods to the cloud
Riding the wave of digital transformation means simplifying the insurance experience. Paper-based methods of working are archaic and use costly materials in an inefficient and unsustainable manner, which is bad for business and frustrating for the customer. The advent of cloud-native policy insurance platforms ushers in a new era of flexible methods for creating and implementing insurance products.
However, uniformly switching to a SaaS-based platform may not be the best option for companies entrenched in older systems. Many insurers require nuanced insurtech that can seamlessly integrate with their existing infrastructure, a staple of the INSTANDA platform.
How INSTANDA can help
It is time for insurers to embrace the new world of insurance, through the incorporation of technological innovation. The INSTANDA platform provides a fully customizable policy administration platform that empowers clients to build a plethora of product lines and channels. The platform is underpinned by innovative underwriting and distribution capabilities, giving business teams the ability to innovate rapidly and delivering solutions to markets in weeks or months, not years.
INSTANDA blends modern SaaS-based technology and transformative thinking, to help the forward-thinking insurer cater to an increasingly wide range of consumer needs. INSTANDA is the future of the insurance experience – are you ready to join in?