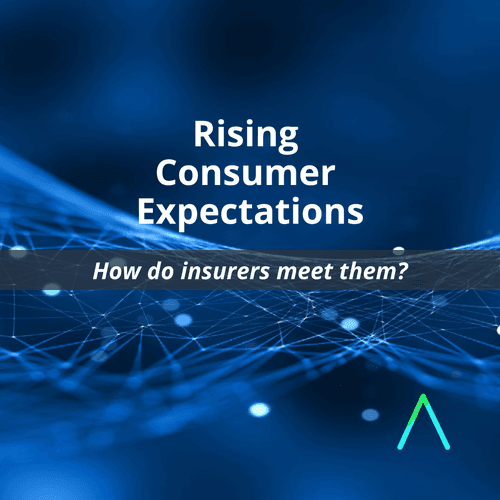 By Greg Murphy, EVP - North America
As I wrapped up speaking on the latest panel for SVIA's Innovation Trailblazer's webinar series, I was struck with the idea that carriers and MGAs are focused on finding ways to improve the customer experience. After all, the end goal for insurance companies is to insure as many customers as possible, at a profitable level. Yet, with traditional systems, it makes it difficult for those insurers to make changes to their platforms that will allow them to speed up the quoting process or bring new products to market.
Flexibility is Key
If the past year has taught up anything, individuals and companies need to be flexible to adapt. However, since insurance companies spend millions of dollars and invest years of time building a platform, it is no wonder why the industry has historically been slower to adopt recent technologies or change their processes.
But what if companies could spend less money and less time on building a product, while writing more business and increasing their bottom line? The answer should be easy, but for many, it is not. The reason is the same as mentioned earlier – companies invest millions of dollars and years into a platform and they want to 'recoup' the investment made... that they are hesitant to change…and the larger the carrier, the more difficult it can be. Yet, that is the very reason it is so important for insurers to begin a flexible mindset as we continue into 2021 and beyond.
Changing Consumer Mindsets
These days, consumers expect to call their agent or go online, input a few pieces of data and receive a bindable quote in a few minutes. The challenge with this consumer mindset is that many companies are bogged down by legacy systems that do not allow this to happen easily. For most commercial businesses it can take a few days, or more, to get a bindable quote. This will not be acceptable in the next 3-5 years. It is time for insurers to adapt to the rising expectations of their end consumer.
Companies that are ready to take an idea, pick a piece of the process to improve, and deploy in a few weeks are the ones that will be most successful.
Insurance Solutions for Growing Companies
At INSTANDA, we are fortunate to see many MGAs or Insurance startups that have this mindset. I would say the driving force behind this is because the companies are hyper-focused on niche areas of the market and are able to make iterative changes. In addition, larger carriers who give their business units the freedom to act like a startup have equal success! If you have a leadership team that is committed to that structure, you will see amazing results. The size of the company does not matter; it is all about the leadership paradigm and the willingness to test and learn.
Each time we sign-on a new client, we walk through the same process:
Understand their business plan and core concepts.
Dissect the quoting process to identify automation opportunities (i.e., the usage of new data sources to aid in underwriting).
Build out the product either through a client-build, co-build, or INSTANDA-build process.
Bring the product to market.
Test, learn, and make changes, as necessary.
Walking through this process allows our clients to have full control over their internal, agent, and consumer experience. Most of our clients begin this process with an MVP (minimal viable product) mindset where they build the product with a specific target in mind to get it to market in a few weeks. Once it has been tested, changes can be made and expansion to larger audiences can happen. Our timeframe, from idea to implementation, is around 8-12 weeks, which allows our clients to quickly see results – rather than waiting years to see any return on their investment.
Get Ready for Flexibility
I like to remind each of our new clients that a deployment does not have to be perfect. You just need to have a great idea and be willing to test and learn along the way. The INSTANDA platform was built to be flexible – rather than waiting weeks or months to make a change, our clients can make a real-time change in a matter of minutes. This flexibility is the difference between writing more business, in a short amount of time, and staying in the past.
If you are ready to join in the insurance revolution and transform the way you do business forever, then let us talk! With INSTANDA, you can build products that are uniquely yours and change the way consumers experience your products. Get in touch to get started with modernizing your insurance solution today!