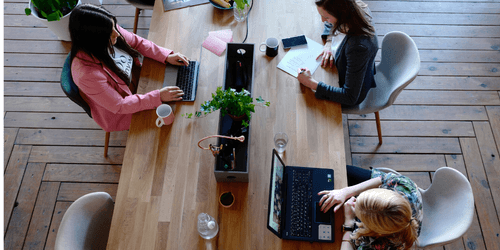 This Sunday is International Women's Day. In recognition of the women transforming the World of Insurance, we thought we'd celebrate the impact they're having with a shortlist of some of the many inspiring female insurance businesswomen we know.
After careful research, here's our list of the most influential female insurance leaders who will undoubtedly continue to make an impact for many years to come!
Jill Frances, ARM, Chief Underwriting and Operating Officer, Victor Insurance Holdings
Following an underwriting career spanning almost 30 years, Jill Frances continues to push the boundaries of underwriting capability, making strategic use of technology to do so. As she enters the year as Chief Underwriting and Operations Officer for Victor International and Active Underwriter for Victor Syndicate 2288, this year marks yet another leap forward for Jill.
The syndicate supports Victor's underwriting of property and casualty business in the US, UK, Italy and the Netherlands and signals a direct synergy with Lloyd's digital-forward approach and Victor's leveraging of digital technology to further its international expansion plans.
Viewing disruption as an opportunity to progress, Jill champions using the best-in-class technology to distribute specialty insurance through a vast network of insurance agents and brokers.
Louise Birritteri, CEO and Co-Founder of Pikl.
Louise Birritteri is the CEO and Co-Founder of Pikl, a specialist insurance provider helping the likes of Airbnb and holiday homeowners get out of a pickle and back into action.
As an insurance professional who also participated in the sharing economy, in 2015, Louise spotted a huge gap in the market created by the lack of cover between home insurance and the Airbnb Guarantee. There were many providers who had got close to providing cover, but none had managed to bridge the gap. Rather than sit on the opportunity, Louise, with financial backing from a keen investor and the support of four other founders, launched Pikl in 2016.
The success of Pikl has been phenomenal. As the company provides specialist insurance for thousands of Airbnb users, the team has grown from five to over 20, with in-house underwriters as well as product development specialists.
Ranila Ravi-Burlem, Director of SME Solutions, Aviva
Ranila has a vast track-record in delivering business growth and strategies across the professional and financial sectors and is often invited as an inspirational Insurtech guest-speaker.
Since 2018 she has been leading customer strategy for the SME market in her capacity as Director of SME Solutions for Aviva in the UK. Working across GI and Life and Health, Ranila is responsible for creating innovative propositions and product distribution models. The latest innovation is Aviva 360 – a highly customisable blended protection insurance for businesses with 1 to 15 employees – created and distributed on the Instanda platform.
In addition to her successful professional career, Ranila has also been on the board of international development charities and is passionate about gender equality in the workplace.
Ruth Polyblank, Vice President and Partnerships Lead, Mastercard
Ruth's career in insurance is an impressive one. A regular speaker, author and mentor to others within the insurance sector, Ruth knows exactly how to leverage technology for commercial gain.
As Vice President and Partnerships Lead at Mastercard, she manages a global team responsible for the identification of new insurance opportunities. She strategically uses Mastercard's existing assets and capabilities to extend its reach into new verticals.
Drawing on her 18 years' senior-level experience of marketing and business strategy within the sector, Ruth has been instrumental in getting many Insurtech businesses off the ground expanding existing portfolios.
She was responsible for the performance and growth of Chubb's SME portfolio, using digital technology to create new products and tap into previously unreachable markets.
As co-author of 'The InsurTech book' and an Ambassador for the Chartered Institute of Insurance's Insuring Women's Futures programme, Ruth continues to inspire other women.
Paula Doolan, MGAA
Paula started her career in insurance straight from school in Dublin and went on to set up her own brokerage at the age of 35. This was before she moved to London to pursue a career as a broker in the Lloyd's market.
Well-respected for her knowledge of the Lloyd's and London market, Paula has held several senior business development and marketing consultant positions.
She was one of the founder members of Network Ireland, a forum for women in business and a member of the Insurance Super Club in London, a forum for senior female leaders in insurance. She is also a highly-regarded mentor and business consultant.
Now, she uses her experience to promote the MGA Sector by looking after the interests of the Managing General Agent's Association (MGAA) members.
Melanie Tromba, International COO, INSTANDA.
Melanie has an innate ability to build and implement long-term strategies to help insurers, MGAs and brokers achieve their corporate and operational goals.
Most of the positions she has held have revolved around product development, specifically for international markets. Passionate about operational efficiency and change transformation, Melanie is experienced at developing and leading high-performing teams and finding innovative solutions – through technology – to resolve conflicting business concerns during the product development cycle.
Her strength lays in restructuring IT teams to enhance commercial capability whilst controlling expenses.
In her position as International COO, Melanie oversees INSTANDA's international team, which is currently supporting clients in 12 countries in bringing new insurance products to market.