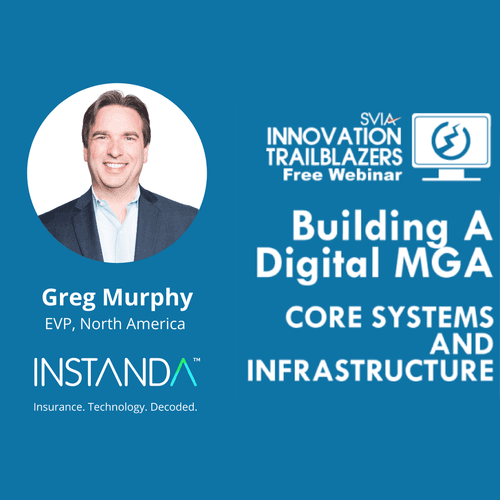 Greg Murphy, EVP for INSTANDA North America, recently spoke as a panelist on the SVIA Innovation Trailblazer Series: Building a Digital MGA. He was joined by Greg Boutin from Relay and Dogan Kaleli, an insurance executive/former Head of Programs of Allianz. The panelists explored how an MGA can set itself apart using technology to transform their processes.

What makes a winning MGA?
Moderator, SVIA's CEO Mike Connor, began the online seminar by discussing what creates a winning MGA. He shared that MGAs need to have industry knowledge, be able to get products to market quickly and make agile changes to adjust coverage, underwriting, and pricing. At the forefront of these characteristics is the ability to innovate through digital transformation.
The bulk of time was focused on the importance of modern technology, such as using automation to improve the underwriting process. All the panelists agreed that if you do not innovate through technology, your company will not be around in a few years.
Regarding the use of new data and technology to transform your business, Kaleli said that "MGAs are in a really advantageous position to be game-changers within the industry through agile movements."
With digital innovation being a principal factor in winning as an MGA, many attendees asked what trends they should be watching to digitally innovate.
Digital trends: speed to market, agile thinking & automation
Greg Murphy shared that INSTANDA has been seeing MGAs and Carriers coming to INSTANDA with a new product or idea (i.e., fire coverage in California, cannabis coverage to states with legalized cannabis use, transforming how they look at fleet coverage using IoT data) and wanting to get it to market quickly.
"It's this combination of agile thinking and using technology or new data to make processes more efficient," says Murphy. "The MGAs that are winning are those that make it easy to do business and do it quickly. If you can write a policy in less than 24 hours (or even in just a couple of hours) then you have moved ahead of the market."
To quickly get a product to market or a policy quoted in just a few hours, what does an MGA need to do?
The panelists all agreed that a major trend is to automate the quoting process using API driven data. Automating at least part of the underwriting process is vital to success – if you cannot provide a quote in a short amount of time, you will lose business repeatedly. In addition, allowing technology to perform administrative tasks that traditionally take time away from critical underwriting resources improves efficiency and job satisfaction for underwriters.
Technology helps business goals
At INSTANDA, we help MGAs and carriers identify how technology can help achieve their business goals. We begin by sitting down to understand their current process and how they envision the future. Then we dissect the process to identify automation opportunities including the usage of new data sources to assist in underwriting.
Through this process, INSTANDA is committed to helping insurance providers streamline their insurance lifecycle using innovative technology. Our platform allows insurers to build complete products - rates, rules, and forms - in a short amount of time, usually around 12-weeks from idea to production.
Our no-code platform not only allows those closest to the customer to build the product, but it also allows for agile changes – thus giving the insurer an opportunity to build a product and then rapidly make updates to ensure customer fit and profitability. And, as Greg Murphy says, "it is really pretty simple."
What's next?
It takes digital innovation to become a winner in the marketplace. When you build a business case, consider three things:
Do not do everything at once – make agile movements to develop your product and get it to market quickly.
Do not spend a lot of money before you are live. There are a few platforms like INSTANDA that allow you to try product offerings in the market without shelling out millions of dollars. A small investment to prove your business concepts pays large dividends when you get to market quickly and make the changes necessary for success.
Work with providers that understand MGAs. Otherwise, you will spend the first several months helping the vendor understand your company and the industry. Save time by choosing a provider that already understands and speaks the language of your business.
With INSTANDA, we can help you create a new product in weeks. We will partner with you to develop your product in a creative way – because with INSTANDA, we believe you should experience insurance YOUR way.
For more information, contact us at (989) 450-2351 or request a virtual demo.