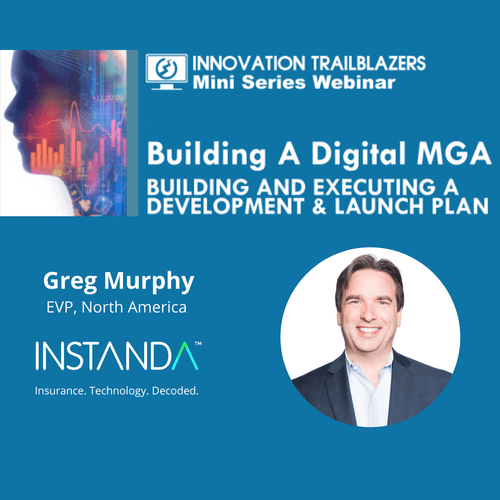 At his core, Greg Murphy, EVP for INSTANDA North America, believes in the importance of educating our clients and partners to help them achieve success. Through this endeavor, Greg has spoken at SVIA's Innovation Trailblazer Webinar Series: Building a Digital MGA. This past webinar focused on how an MGA can build and execute a development plan. This time around, Greg was joined by panelist, Aaron DiCaprio of Accelerant, where both shared their views on how an MGA can set themselves apart from the crowd.
Three Ways to Set Your MGA Up for Success
The first step in creating your MGA is to be clear on the market offering and how it will differ from others. The second step is to create a distribution channel that needs what you have and wants a new way to fulfill their needs. Third, MGAs need to make the customer experience frictionless and fast.
In the last year, Greg has seen companies that offer a niche product enter the insurance space, because they know they can provide a great customer experience. For instance, he has seen home security companies add insurance to their mix. Not only are they installing security systems in their customers' homes, they are also offering homeowner's insurance to their customers.
"They already have the data from offering their security product. Adding insurance to the mix helps cut down on the amount of information the customer has to provide to get insurance," says Greg. "They are removing the friction from the buying experience and condensing the amount of data the customer needs to provide. It's a win for both customer and insurer."
Creating a Great MGA Opportunity
Both panelists agreed that while it is important to be clear on your offering, find a compelling distribution channel and ensure a smooth customer experience, MGAs need to understand how to find capacity.
"Carriers like to see MGAs with a deep expertise – they should eat, sleep, and breath the industry," commented Aaron. "In this instance, information is king. MGAs should have a good balance between underwriting, distribution, and technology, so they can prove they have the skills to make good business and risk decisions."
Not only is having the right data important to building an MGA, but also making sure that you have a good business model. Some of the most common pitfalls Greg has seen, have been around MGAs taking the time to build out their technology but not finding their capacity. Without this, it puts the MGAS at a standstill. Instead, Greg suggests getting the business model and capacity figured out, then adding the technology.
Putting Pen to Paper
How does an MGA build out their development and launch plan? First, they need to sketch out the business plan and clearly communicate their core concept. Then, MGAs need to be able to say what they are doing on the front end (distribution, rate, quote, bind) and what they are doing on the backend (accounting, claims, etc.).
At INSTANDA, we help guide MGAs by asking them about their vision and then help them make the best product. In 8-12 weeks, insurers can do an MVP release, evaluate what is working, make changes, evaluate again, and continue making changes. It is an iterative process and one that can save time and money through agile movements, powered by SaaS.
Are you ready to join the revolution when it comes to insurance? Transform the way you do business forever with INSTANDA and build products that are uniquely yours. Contact us today to get started!