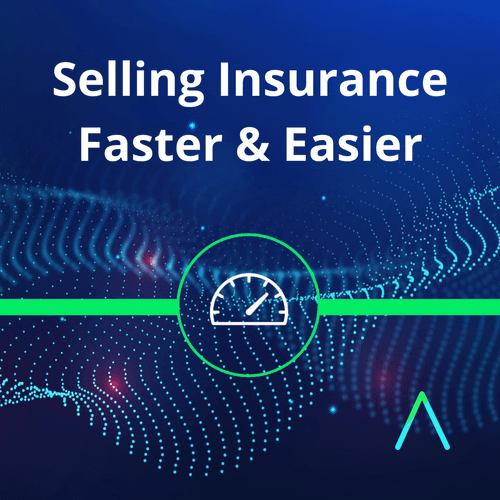 It is only the second week of January, yet the insurance industry is in full swing and INSTANDA is no exception! INSTANDA's EVP for North America, Greg Murphy, appeared on his second webinar of the year – joining as a panelist for SVIA's Innovation Trailblazer's webinar series: Next-Gen Commercial Insurance, Innovation in Product Design & Business Models. He was joined by The Hanover Insurance Group's Enterprise Data Leader, Srinivasan Sankar.
Insurance Solutions to Sell Faster & Easier
The webinar began by focusing on future trends and what each of the panelists think will have the greatest impact in 3-5 years. The consensus was that there would be a major focus on getting insurance to consumers quicker and easier than ever before. As consumers get used to immediate satisfaction through digital means, insurance companies that rely on a more traditional model will begin to see their business erode from those insurers who begin to give the customer what they want.
Why? Because consumers are now being bombarded by insurance companies who have already transitioned to the digital space and have found easier ways to get an insurance policy to those consumers – and that renewal with the traditional agent will not always be a given.
"There is a natural tension between customers wanting insurance to be easier and more reasonable to purchase – they want to know what their policy will cost today, not wait a couple weeks to get a quote – even for complicated risks." said Murphy.
The solution? Insurance companies need to be innovative at the front end of insurance ideas. According to Srinivasan, "the use of data and analytics is important to enhancing the effectiveness of underwriting" and that utilizing the right data sources will help to speed up the quoting and risk assessment process, giving customers a quicker quote response.
Being innovative on the front-end and through the underwriting process will enable carriers and MGAs to sell policies more quickly and efficiently, thus increasing their bottom line.
Identify, Validate and Scale Insurance Opportunities
As insurers are looking for solutions to sell faster and easier, the industry is moving away from a broad focus and looking to more niche products and programs. At INSTANDA, we have been having conversations around niche markets, such as the creation of products that insure a specific type of building, (i.e., brownstone buildings) in a specific location. Because many of the buildings were built by the same builder and have been around for 100+ years, there is extremely specific and precise data available to understand the risk of these buildings. Using automated data to pull the information needed to underwrite the risk enables companies to automate all or a portion of the underwriting process and allow underwriters to focus on differentiated risks in the process.
This line of thinking allows companies to expand into markets they may not have had the time to focus on before. Adding technology is no longer the most difficult part of the process, having a clear idea and focus is much more difficult. According to Greg, "you don't have to be perfect to get to market quickly. Build an MVP in one area [such as a specific state] and then tweak it as you go. Once you validate the product, you can expand it further."
It is important to remember that modern, SaaS-based platforms do not take long to scale. In fact, modern platforms will already have most of the capabilities needed to get a product to market quickly. Changes can be made iteratively as more is learned about the market and the profitability of the product.
Deploying the Next Generation of Insurers
Voltaire said, "perfect is the enemy of good." For insurers to sell quicker and faster, it is time to stop spending millions to implement and launch a new product. Not only does waiting until you have the "perfect" model means spending too much money, but it usually means waiting years to get your systems in order…at which time the system will already be outdated before you even have a chance to use it.
At INSTANDA, we help guide carriers and MGAs by encouraging them to clearly articulate their vision. In 8-12 weeks, insurers can do an MVP release, evaluate what is working, make changes, evaluate again, and continue making changes. It is an iterative process and one that can save time and money through agile movements, enabled by a modern SaaS-based platform.
Are you ready to join the insurance revolution? Transform the way you do business forever with INSTANDA and build products that are uniquely yours. Get in touch to get started!