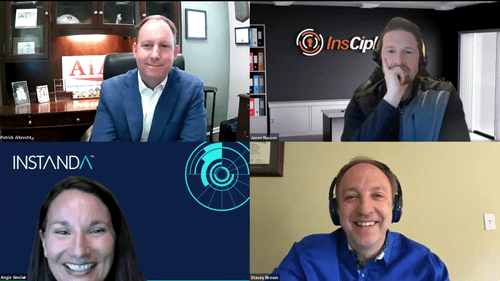 Innovation is a vital part of keeping any organization at the ready in the marketplace. Yet, innovation can historically cost years of time and millions with inherent risk of ever seeing that speed to value. Here's a recap of insights from INSTANDA's recent webinar on leveraging insurance technology for cost savings. Click here to watch the full recording.
The panel brought together four industry veterans:
Angie Sinclair is INSTANDA's North American Technical Pre-Sales lead and has more than 20 years of insurance experience working for large MGAs and carriers. While working with insurers, she managed policy administration configurations and configuration teams.


Patrick Albrecht has been President of AiA for more than 10 years and has spent more than 20 years working with both large and small MGAs. His primary focus is on relationship management and creating efficiencies for employees.


Stacey Brown brings more than 20 years of insurance experience. He worked in IT for two large carriers, managing policy and claims systems. More recently, Stacey launched Insurtech Hartford to bring together insurance communities.


Jason Russon is the director of Sales & Marketing for InsCipher, a company focused on simplifying surplus tax filing. He has more than 20 years of experience helping companies achieve and manage growth.
Below are the highlights from the discussion.
Q: What are common misconceptions with leveraging technology for cost savings?
One of the biggest misconceptions is that technology solves all an insurer's problems. In reality, technology can create new problems. It's easy to go through a digital transformation only to digitize the same broken process. That only makes a broken process faster. For example, you can turn paper application forms into PDFs to make the information easier to access, but still have the same review and approval processes. There are opportunities to make that process smoother – extracting the data, structuring it, and communicating it more efficiently via API. For technology to be a blessing and not a curse, companies need to start with a clear understanding of the people involved, what those people need, and how the process as a whole can be improved.
Another common misconception about technology is that it comes at the expense of your personnel. One of the greatest fears of insurers is that they will lose their friends and colleagues if they implement new technologies. In many cases, technology can help make employees more productive and free up time to work on the value-adding, and often more enjoyable tasks. For example, underwriters can spend more time actually underwriting policies and less time manually entering or looking up data. AI is a big buzzword and has agents, underwriters, and claims adjusters alike nervous about their jobs. However, technology (and AI) is only as good as the people directing it. It can amplify talent, but it's not a replacement for human talent.
Q: When improved efficiency frees up your team's time, how do you best fill that time and translate it into growth?
One of the best uses of increased capacity seen from operation efficiency is relationship development. Instead of technology taking away from the personal touch, saved time can be spent building relationships. Instead of entering and tracking down data, underwriters can have more intentional conversations with agents to build their relationship and get feedback.
That time can also be spent increasing the number of applications or claims your team processes, or even training your team to encourage their growth and development.
Q: What kinds of short-term and long-term savings can be seen when implementing new technology?
Short-term versus long-term savings differ depending on the size of the insurer. Small teams can often move fast, flipping on a switch in a few weeks and seeing benefits almost immediately.
In larger organizations, short-term savings can be tricky. It can take months to implement changes and even longer for large amounts of people to adopt new processes. It takes patience to see long-term savings. At the end of the day, larger organizations need strong leaders who believe in the change, can sell the change, and put the right people in place to make change happen.
The biggest thing to remember regardless of company size is that you can't just add technology to the same old process. Processes need to evolve with technology to ensure that you leverage the most in cost savings and don't need to hire more staff when undergoing a technology change.
Q: Insurers often believe they must pick between cost savings or growth. What's your opinion?
For many companies, operational efficiency and growth are not mutually exclusive. If you're not growing, you become stagnant and lose efficiency; it's easy to lose motivation and excitement. It's important to focus on both. By improving efficiency, you create time and capacity for taking advantage of new growth opportunities.
Q: What can be done to make sure timelines and costs don't get out of control during a transformation project?
The most important thing to keep your technology projects on track is making sure the objectives are clear to your team, your vendor, and your stakeholders. There need to be clear, realistic goals and accountable team members who clearly know what their roles are.
Another element that can help is leaving behind waterfall processes. Rather, focus on an MVP and iterative approach to ensure you get the fastest speed to value with continuous feedback to ensure the final product makes a difference in your organization.
Q: How does investing in customer experience create cost savings?
Ultimately, if you're focusing on the customer experience, you will inevitably see cost savings because you're making the process easier, faster, and often more oriented towards self-service. Claims is one of the most important areas to focus on customer experience as the claims experience is what insurers sell at the end of the day. It's important to look at the process from the perspective of your policyholder. If you have the same process for closing a $500 glass claim that you do for a $200,000 property claim, there are probably opportunities to triage and make the smaller claim process more seamless. This will encourage both your policyholders and staff as turnaround times get faster and less time is spent stuck in the back-and-forth of the claim.
Q: With so many emerging technologies, how should insurers research which technologies lead to lasting efficiencies, and which are just a resource vacuum?
Picking the right emerging technologies is not an easy task. There's a technology soup of solutions and vendors, many of which can seem similar to one another. The most important things to remember are the following:
Make sure your company is ready internally before embarking on a new project. In some cases, it can take 90 days just to get through procurement, let along requirement gathering and project planning. Is your team ready for a change?
The most important thing is to look at the problem you're solving. Be clear in what you're trying to do and who it will help.
Discuss your clearly-defined need with your stakeholders and users. Even if a software project is done perfectly on time and budget, if people don't adopt it, it's not a helpful transformation.
Talk to the provider's existing customers. There's nothing like hearing from someone who has lived through the transformation itself to know if the project is worth undertaking and if you have the right partner to transform with.
Look at a company's partners. Most companies don't work and live in a vacuum anymore. Strong partnerships with other reputable vendors can help show how mature and experienced a brand is.
Q: Are there any emerging technologies all insurers should be paying attention to right now?
Any technology that increases the bandwidth and capabilities of underwriters and claims adjusters are worthwhile, especially those involving AI. Putting more information at their fingertips to help them make better decisions can only help enhance customer service and profitability. Another field to keep an eye on is payment technology expediating claims payments. Many insurers still cut checks and have long claims payment cycles. Bringing these processes to the 21st century will go a long way towards customer retention and experience.
To watch the Webinar on-demand, you can tune in here. And, if you would also like to see INSTANDA's transformative capabilities in action, book a free demo with us today.