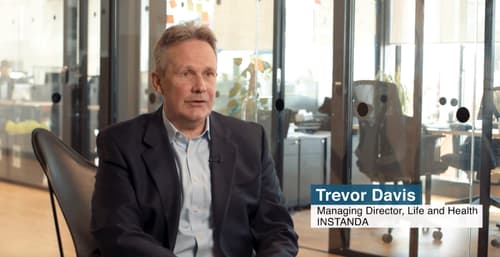 In his latest article, Trevor Davis, Managing Director for INSTANDA Life and Health argues what we really should be talking about instead is adaptation to a changing future.
Innovation has been a buzzword for many years in the world of business, education and politics. More recently it has been hyped up in insurance as if it was the salvation for the industry.
Of course, every business leader would recognise the importance of constantly searching for better ways of working or new customer propositions. But touted as a panacea creates confusion, since nobody can quite seem to agree what it really means or how to measure success through it. The innovation advocates talk up huge change, and offer it up as the silver bullet. Yet when we look outside of insurance other industries that have progressed further and faster than insurance, retail, home automation and travel to name but a few, use more grounded methods and approaches.
In its overuse and generalisation, innovation has caused many to become distracted. A recent study by Deloitte, Innovation in Europe, argues there could be an 'innovation deficit' suffered across the region compared to Asia and the US. Whist investments in data analytics (69 per cent) and cloud computing (62 per cent) are already well advanced, AI and Robotic augmentation still have some way to go. So, what is the real business of the day?
Before we answer that we need to back up and take a look at what has happened over a longer timescale to help us predict the future.
The life and health insurance landscape
The insurance industry has a long history of structural change.
WHEN it will happen and WHAT form will it take? The truth is there are many forms of it across different geographies and lines of business. So the real business of the day is to ensure the business is flexible and agile enough so that it can adapt to change, not just to survive it, but to take advantage of it and thrive.
We also know we are in a world where consumers demand more personalised experiences. Digitalisation in other industries such as banking means insurance must meet the demands of a new generation of customers. Ones that expect deep personalisation, in real time.
Increasingly high customer expectations, are difficult, if not impossible to meet with inflexible technology solutions and legacy platform constraints.
As a an incumbent looking to stay relevant, can it be true that once a year or once in 5 year (for term life) interaction is enough to keep a high degree of loyalty. Then if the interaction is via complex paper forms and lots of input from the customer for information they don't have at their fingertips, we can all agree then this won't cut it. Now and increasingly, individuals and employees expect a low effort experience.
So we know more structural change will happen and personalised, frictionless experiences are a must, which means being able to:
establish easy, fast set-up of Corporate products
focus on new markets quickly like the gig economy
And of course neither of the above are possible without a digitised business model.
So where do you start?
The delivery Challenge
At INSTANDA, we are immersed in solutions that 'solve to' the changing consumer and business expectations. Equally we understand the challenge to deliver to those markets at pace. Our technology was designed for that purpose.
As a CEO, you hold the business agenda. Accessing new markets, developing new products and keeping costs static are top of your wish list and you know that new ideas and revenue streams can be difficult to find.
As an IT director, you have a technical agenda. The big question you ask yourself is 'can I deliver? There can't be a 'big bang'. You're held back by the constraints of legacy systems and budget restrictions.
As a key oversight, the Board. Asking the simple but justified question of what can go wrong and will this really deliver?
Meeting all of these stakeholder expectations are paramount. Years can be taken up with analysis paralysis or worst sill transformation programs running into £100m's. Successful, enterprises as seen in other sectors and we are starting to see in insurance, start small and aim high.
Their approach to learning is to adapt faster. They recognise the future is changing, some of it is unpredictable. The industry giants that have prospered adopted evolutionary processes, whether Google, Amazon or Apple the initial big customer value idea has been relentlessly refined and enhanced. Not through big bangs but constant adaption to customer need. At the heart of it, are technology capabilities that gave them flexibility, channel innovation and rapid product and service creation through cloud-based solutions. At INSTANDA, our technology provides for rapid delivery (weeks) and constant evolution. But how is it done? A front to back delivery approach
INSTANDA's unique Digital Platform and Customer Focused Solution – Front to Back leverages legacy systems and integrates with modern other data technologies and eco-systems. Data is core to the approach providing real time analytics and insights. This is paramount to adaptation at speed!
Our platform focuses directly on customer needs whether individual, corporate or changing markets e.g. gig economy, rising millennials and aging population.
To enable a rapid, low cost and lower risk delivery we have built our platform based on three principles;
business led product design,
a no code, scalable and secure platform;
3. Open to and with, other systems and data sources.
This means we can enable both new entrants and incumbent insurers to meet customer needs and avoid being constrained by costly legacy systems.
We are already seeing INSTANDA clients in the UK, LATAM and Asia launching new propositions (Retail, Corporate SME) that resonate with their customers and are getting them ahead of their competitors.
INSTANDA is a leading example of modern technology that enables business owners in life and health to deploy products and orchestrate customer journeys for any market segment in weeks not months. With A/B testing, multi-channel distribution combined with full underwriting and (close) to real time pricing, insights can be gained by the minute, meaning adaptation becomes part of the everyday business and not a sugar coated distraction that Innovation runs the risk of being.
Imagine a world where your customer growth ambitions are brought to reality. Break away from traditional mindsets work with a team who can help you leverage their experience of industry leadership as well as delivering in 13 countries with over 50 clients just in the last 3 years.
Whether you target markets are subscription based, dial-up dial down, or shift pattern policies automatically driven by timesheets, individuals or corporates, create your adaptive technology capability with INSTANDA.
So should the innovation hype be RIP? Absolutely. Let's get talking about your growth plans, and how we can help provide you with truly adaptive technology that means you are future ready.
To learn more about how INSTANDA can help you get in touch: book a demo>>