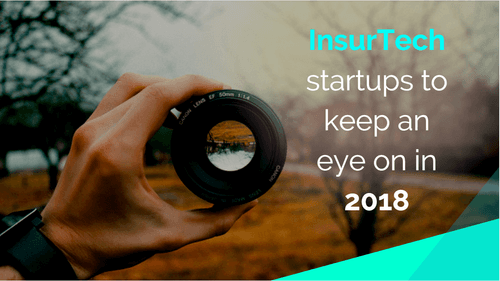 We are delighted that INSTANDA has been chosen among InsurTech startups to keep an eye on in 2018! Please read the article below by
Apiumhub
: In my previous articles, I talked about
PropTech
and
MusicTech
, today, let's discover the InsurTech industry. Currently, technological advancements offer the insurance industry a tremendous opportunity to meet growing customer needs. And today we will look at booming insurTech startups to keep an eye on in 2018. These startups came up with interesting projects that make the insurance industry much more pleasant for the end users. InsurTech startups to keep an eye on in 2018
Instanda
Instanda offers a management tool for insurers and brokers to build, launch, distribute and monitor new insurance products in a fraction of the time it would traditionally take. Instanda has built a tool which consolidates question sets, underwriting workflow, documentation, a rating engine and the customer journey so that underwriters can respond to changing market demands quicker than before.
Cystellar
The first one on our list of InsurTech Startups is UK startup Cystellar. It is a cloud-based big data analytics platform, built to improve data-driven decision making. Cystellar's platform provides predictive analytics to sectors such as insurtech, particularly helping insurers and their clients avoid damaging events.
ThreatInformer
The second one on our list of InsurTech Startups is ThreatInformer. It was founded to provide cyber risk intelligence to the insurance industry. The startup delivers tools for users to transform the way risks are written. Based on a security-as-a-service platform, ThreatInformer combines threat data, security assessments and environmental factors to help users see the full risk picture.
Homelyfe
The third one on our list of InsurTech Startups is UK startup Homelyfe, which aims to provide a single app to manage all of your insurance policies in one place. This includes getting quotes and purchasing to managing and renewing insurance policies, and even starting a claim.
Nimbla
Nimbla's goal is to help SMEs manage and protect their credit via its platform, which offers them credit control and single invoice insurance using cloud accounting. Nimbla's free predictive cashflow and risk analysis learns from your experience providing unrivalled forecasts. Peer reviews, B2B ratings and sentiment analysis allow you to better understand your customer relationships and risks. Benchmark your payment trends against peers allowing you to make informed decisions.
Cuvva
Cuvva is building flexible car insurance for you. Pay only for what you need; as little as an hour to borrow a friend's car, or ongoing insurance for infrequent drivers. In the mobile app you simply enter the registration number and approximate value of the car you are borrowing from a friend or family member, choose the time you want to be covered for, take a picture of the car and Cuvva will get you an instant quote. Cuvva integrates with Facebook so that you can see which of your friends have cars to borrow.
Brolly
Brolly is a London-based startup that uses AI technology to give customers a mobile insurance locker, advisor and shop, cutting down on costly renewals and coverage gaps. The mobile app has three core features: locker, that stores your existing and expired policy documents, advisor, that suggests coverage you may need and shop, that allows users to purchase policies directly in the app.
Digital Fineprint
Digital Fineprint is a software-as-a-service platform which uses machine learning technology to help commercial insurance firms attract and retain customers, namely small-to-medium sized enterprises by combining open data available online, for example, company reviews, government statistics, social posts and data from websites of individual companies with an insurer's own data to create a single view of prospects and customers. It then deploys machine learning algorithms to better predict customer needs.
Digital Risks
Digital Risks is an insurance specialist built for tech companies, offering a flexible, pay monthly Insurance-as-a-Service model. A founder could start out by protecting their laptop and end up with employer liability insurance and insurance against data breaches as the company grows.
Neos
Neos is a smart, new way to protect and insure your home. They give you the latest technology to warn you if there's a fire, burglary or water leak in your house. The Neos app lets you check up on your home from anywhere in the world 24/7.
Spixii
Spixii is an "automated insurance agent" which essentially lets you buy and manage your insurance through a chat interface. Spixii designs white-label chatbot technology to help insurers protect and engage customers, personalising their experience.
Insly
Insly is a cloud based platform for insurance brokers. You can search and manage clients, policies, objects and payments in one place. It is cloud based, so brokers can access the system from anywhere. It is essentially a customer relationship management (CRM) platform – for the insurance sector.
Rightindem
Rightindem aims to allow customers to use their smartphone to record what happened, be it to their car, boat, home or gadget. It claims to use AI technology to both expedite and validate the claim, saving customers time and money.
Worry+Peace
This insurtech startup allows customers to directly purchase insurance and manage all of their policies in its Pouch platform.
Axieme
Axieme is a first social insurance startup. Policyholders are gathered into a group and share information on the claims occurred within the circle they belong to.
RenewBuy
RenewBuy is an online Insurance Platform which gives a smartest and fastest way to compare, choose and buy Motor and Health Insurance Policy.
The Zebra
The Zebra is the nation's most comprehensive and most visited online car insurance comparison marketplace.The Zebra's unique and powerful technology provides real-time rates and educational resources to inform consumers and help them find the coverage, service level, and pricing to suit their unique needs.
Elafris
Elafris has developed an AI-driven virtual insurance agent platform that enables insurers to engage consumers via messenger applications. The unique, AI-driven, insurance-specific chatbot technology learns from customer interactions to help them identify and purchase the right insurance coverage, provide convenient payment reminders and credit card processing, and provide guided insurance claims processes via a smartphone.
CaseGlide
CaseGlide is the leading case management system for insurance companies and their attorneys to streamline collaboration, automate routine processes, and create transformative business intelligence. They have created custom-tailored solutions for insurers, including case management, reporting and analytics, etc.
INZMO
INZMO is an advanced fully-digital insurance platform creating value and enhancing the experience of insuring for all parties involved in all key stages. They help insurers to become digital; corporates to increase their value proposition with insurance; and customers to enjoy instant experience in managing their insurance.
Wrisk
Wrisk is on a mission to change the way people think about and buy insurance. Their app is designed to make insurance more transparent, personal and convenient. It's a pay-as-you-go, on-demand service, easy for everyone to access.
INSHUR
INSHUR is a mobile-first provider of commercial auto insurance for TLC drivers. The mobile app allows TLC drivers to quote, purchase and service their insurance policies at their convenience.
Zipcover
ZipCover is your one stop insurance shop. Here you can explore, compare & buy the best policies with maximum discounts.
GoodFetch
And the last but not least one in our list of InsurTech Startups is GoodFetch. It is an online price comparison platform with win-win propositions for both consumers and insurance carriers. With a single request, they provide side-by-side quotes for easy comparison. Consumers can review quotes from multiple insurers without going through any sales process.