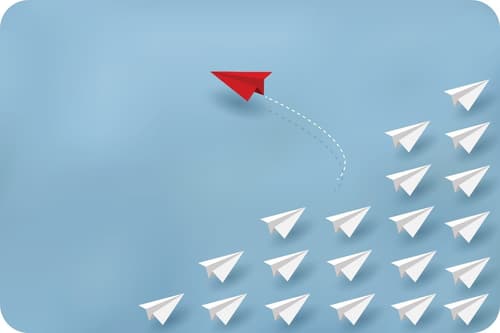 This is the second half in our two-part blog series highlighting the top five fears negatively impacting companies in the P&C sector. The first part unveiled time, money, and complexity as three of the leading reservations.
Insurance firms spend a lot of time and energy ensuring legal compliance, maintaining base products, and keeping the engine running. This can often result in differentiation being left as an afterthought. Differentiation can fall into the weeds of everyday decisions, but planning and implementation, in the form of change management, can be essential to a company's success. These fears, on differentiation and how to best manage changes, are key obstacles CIOs need to overcome.
Differentiation requires considering the bigger picture

What may seem like small system changes, such as adapting a product's appearance or the questions asked by a potential customer, should form part of a larger strategy. CIOs must ask themselves what makes their company unique, and how they stand out compared to competitors, to figure out how best to differentiate. There must come a point where someone in the company with the right expertise can speak up and clarify how the differentiation process can be carried out. Executives' relationship with other departments is paramount to a smooth differentiation process.
Inter-departmental relationships

To make these innovative changes, and distance themselves from competitors, CIOs should have a productive relationship with their IT departments. IT specialists can educate executives on the nuts and bolts of the change they want to make. A high level of back and forth, consulting between departments, and building the level of camaraderie required of creative problem solving will keep changes quick, agile and under budget. Every CIO wants to be remembered for helping their business to differentiate and progress. A good relationship with IT that achieves this can lead to great things for companies. But, even when it comes down to making the changes and shifting systems, companies can face new difficulties.
Change management: the most challenging fear yet?

Potentially, the hardest fear for companies in the property and casualty sector is the hesitancy or inability to adapt. The change management of a company, as it moves from one system to another, is what can tip the scales from efficient to failing. The delivery of any insurance core system transformation can be hindered by an inefficient attitude towards change. Often, companies tend not to provide for its occurrence in budgets, training, and communication between departments. It is also vital to remember the people at the other end of the decisions - the employees who use these systems to do their jobs. By changing these systems, the way these people work also changes, as might their positions and pay. Therefore, communicating empathetically and honestly about changes is significant to maintain a healthy ecosystem at a company. IT departments currently have to ensure that they spend a lot of time on change management. As certain systems may have been in operation for decades, longstanding employees may find the immersion of new world technology too much to handle.
INSTANDA knows a better way

INSTANDA believes that the valuable time and skills of IT departments would be better spent on innovation and planning, rather than dealing with the minutiae of a legacy system change. Our platform can implement system changes within minutes such as changing the distribution appearance, or the questions they ask.
We advocate for a seamless working relationship between IT experts and other business units, providing the speed and agility to allow IT to expend their important resources elsewhere. With INSTANDA, the differentiation that makes your company stand out is achievable without the extensive timeframe, costs, and training of traditional change management practices. So, why waste time and resources when we can help you make change in real time?
Are you ready to throw off the fears of change and differentiation? Then contact us today, we're ready for you!