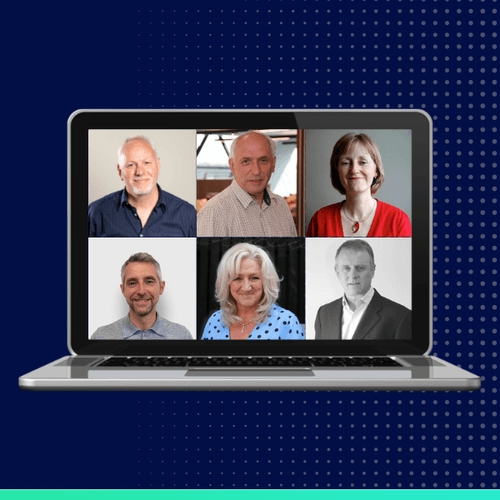 One of the challenges the protection insurance industry faces is the lack of customer communication and education of the product and its value.
Specifically, how can we help consumers make informed choices and meet our duty of care?

This, and other topics were the focus of our recent roundtable featuring expert panel members Simon Candy, Sheila Hogan, Roy McLoughlin, Ron Wheatcroft, Stuart Boseley and Ruth Gilbert.
Throughout the hour-long session, the panel covered a range of topics on the state of the protection market. The discussion touched on issues like the ambiguity around beneficiaries of life insurance, understanding the products and customer need, through to financial education for the younger generation.
The panel also examined ways to empower consumers to identify and amend their coverage throughout their lifecycle to maximise their protection benefits.

This article is the first in a two-part feature of the event, so remember to check out the second part for a full understanding of our experts' insights. In the meantime, read on to discover the panel's thoughts and solutions for enhancing transparency and customer engagement toward life insurance, income protection and critical illness.
What are the biggest challenges facing the insurance industry?
We need to use more accessible and transparent language with customers and lead with more engaging communication channels.

Written text is a difficult medium since it's not as engaging as other formats. Younger consumers are largely absent from the life insurance and income protection market, so finding ways to drive adoption through new tools is a vital long-term goal.

Unfortunately, even the most engaging formats like videos struggle with complicated or nuanced concepts. What's more, the insurance sector is somewhat constrained, as certain terms are mandated for underwriting and compliance reasons.
The discussion on communication sparked a new conversation about education. Some professionals within our industry[1] are still unclear on the merits and value of protection products as part of a financial plan for their customers and their loved ones, so we must find ways to educate internally within the sector and show the integral role these products can provide.
However, more can be done externally, too. Financial education in schools is mainly non-existent, which has a significant impact on adulthood in later life. The group felt strongly that Financial Education should be mandatory in schools. COVID prompted many business leaders to take a more proactive role in protecting their employee's livelihoods. So, there's plenty of goodwill that senior insurance figures can use to raise awareness and drive adoption.
What are the biggest issues around life insurance and income protection?
Currently, many insurers don't communicate at all with their customers. Once a policy has been sold, the customers circumstances may change. The type and level of cover may also need to change.

Equally worrying is that many insurers don't maintain a system to keep customers properly informed about cover amends or new product launches. By failing to implement a consistent outreach strategy, many insurers are missing out on the opportunity to cross and up-sell at various stages of their customers' lifecycles.

Another problem with protection cover/Insurance is that products often don't reflect today's society. For example, marriage rates have largely been in decline since the 1970's as couples are opting to cohabitate instead which has created policy blindspots, such as the importance of making sure that life cover is set up to go to the intended beneficiary.

Currently, family carer benefits fail to mention that the benefit payable only applies to "the right kind of family" — married partners. Therefore, customers can be either paying for cover that will not work as expected or foregoing protections because the market isn't catering to their needs.

The insurance industry needs to take account of the true range of consumer behaviours and offer policies and propositions that reflect today's customer.
Who should be responsible for making sure customers are informed?

Insurers and brokers/intermediaries have a duty of care to their customers. Therefore, there should be a stronger obligation for the industry to provide more information to customers.
Interestingly, there's precedent within pension dashboards wherein policy terms, benefits, beneficiaries and more are listed in a centralised space. Subsequently, we should aim to establish a similar system using protection dashboards and help customers share important information with their loved ones more easily.
In turn, we'll be able to increase brand loyalty and engagement as consumers become more interested and active in their coverage.
How do we keep customers informed about the cover they have?
As with pensions, the ideal would be to create a Protection Dashboard that gives customers a single point to access information about key policy elements, like:


The cover they get across all their personal insurance policies.
The life cover and other protection they get from their pension(s)/employers, etc.
Policy conditions and beneficiaries.
But, in the words of our panel, such a solution may take us ten years to achieve, so what do we have that's available and that can lay foundations that ensure we get there?
A digital customer portal can help by addressing a number of transparency and communication issues by providing a means to provide relevant product information and prompts, allowing the customer to assess whether their covermeets current and future needs.
How do we pave the way to a Protection Dashboard?
Providers (and even some intermediaries) can at least offer a digital customer portal or annual statements to address a number of transparency and communication issues, by providing access to relevant information and updates over time.
By establishing regular, high-quality communication strategies that engage and educate customers, we can empower customers to view and amend current products and access potential new products, services and support.
However, we can go even further using core insurance platform solutions. INSTANDA's cloud-native insurance solution can help lay the foundations of a Protection Dashboard and simplify your customer experience. The Instanda Customer Portal allows the customer to see all policies in one place, gives access to literature, added value services and prompts to self serve if their circumstances have changed.
With our InsurTech platform, your customers can access support easily, eliminating the need for lengthy manual processes.
We'd like to thank our panelists for participating and also remind you that this is only part one of the summary of their insights. If you're interested in learning more about the other ways to drive engagement and transparency within insurance, read our second article for more detail.
Alternatively, add INSTANDA to your network by dropping us a message via our Contact Us page. We would love to hear from you!