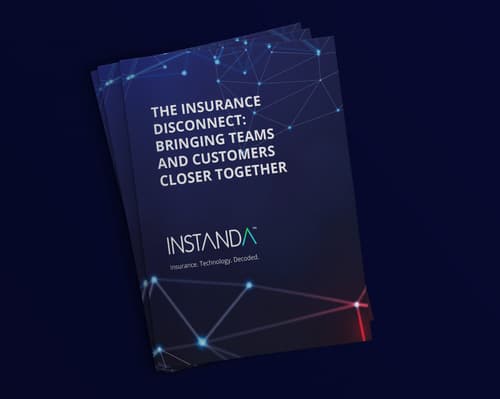 INSURERS AT RISK OF DISCONNECT FROM CUSTOMERS AND TEAMS IF MEDIOCRE IT SYSTEMS PERSIST, SAYS INSTANDA
Almost half of senior UK insurance leaders comfortable with mediocre IT systems, according to new report by INSTANDA
Despite this, 51% of business-facing teams* within insurers frustrated by the outdated legacy systems, and over half think they are missing out on business growth opportunities as a result
Significant disconnect revealed between IT and business-facing teams in marketing and product regarding capability of current technology systems
68% more likely to move part or all their business over to the Cloud because of Covid-19
INSTANDA, the leading customer and policy management platform for the insurance industry, has today revealed the findings of The Insurance Disconnect report, a deep dive into the sentiment of senior insurance leaders in the UK towards the capabilities of their existing IT systems.
The report surveyed 500 UK-based senior Insurance and Reinsurance leaders in IT, Marketing, Strategy, Distribution, and Product Innovation on the ability of their systems to understand how capable are they in meeting their intended purpose, their legacy investment intentions, and how COVID-19 has impacted digital transformation.
Against specified product and business objectives the survey results revealed a muted confidence in the capability of their existing IT systems. Nearly half (45%) of those surveyed reported that their systems were only 'quite able' to meet the needs of today's customers.
The survey results also uncovered a disconnect amongst the views of front-facing respondents in Product and Marketing teams with 51% claiming to feel frustrated by the outdated legacy systems. 52% were of the view that they are missing out on business growth opportunities because of their existing IT systems.
A separate disconnect was unveiled by the report regarding the sentiment across IT teams and Product/Marketing teams, with IT teams strikingly more confident in their current system capability than their front-facing product innovation teams.* Based on those reporting that their current systems are 'extremely able' of delivering desired business outcomes, IT teams remained consistently more optimistic than their business-facing counterparts.
When asked about the impact Covid-19 has had on digital transformation initiatives and the shift in sentiment towards existing IT systems, 70% of business-facing respondents agreed that they would be accelerated as a result of the pandemic, with 68% claiming to be now more likely to move part or all their business over to the Cloud because of the pandemic.
CEO and Founder of INSTANDA, Tim Hardcastle, commented: "There's an encouraging acceptance of the need for digitalisation in insurance post pandemic, but we are still seeing evidence of a strong undercurrent holding innovation back.
"This overriding acceptance of mediocrity is particularly concerning, and a significant mindset shift is needed. Insurers must accelerate their pivot towards digitising their product development, distribution and operational strategies to meet rapidly changing customer needs, otherwise they are at risk of a complete disconnection from their customers and teams. And it is imperative that this acceleration happens at a business-wide level rather than just within IT teams."
Deloitte's InsurTech Technology Transformation Partner, Nigel Walsh, added: "There's an acknowledgment that businesses need to move faster and address speed to market now. To do this, there must be a change in mindset with a capability set to match what is far more open, flexible and agile."

Click to download the full report here