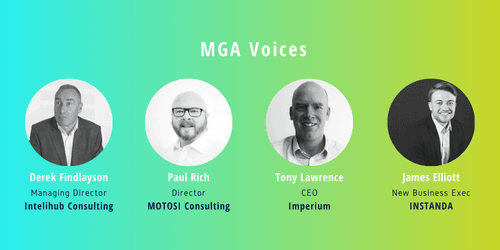 We can hardly believe it has been just a couple of months since we hosted our online conference with the MGAA, asking the market; 'Beyond Covid – is your MGA future proof?'.
The discussion was palpable as Intelihub's MD Derek Findlayson, Imperium's CEO Tony Lawrence, and MOTOSI Consulting's Paul Rich joined INSTANDA's James Elliott for an honest account on the future of MGAs in the UK.
There was quite an audience with over sixty attendees from MGAs of all sizes. With just under 50% stating that they do not have confidence their business is future proof, the panel reflects why this is the case and how MGAs can address these evident concerns.
What are the current MGA market trends?
James (INSTANDA): The MGA market is clearly at a crossroads. Our experience at INSTANDA is that there's an appetite from MGAs to approach capacity providers with new propositions to enter niche markets. However, it's seemingly very difficult at present for a carrier to take a punt on an MGA. Why is this the case, and what's driving the market?
Derek (Intelihub): We must first look at what's motivating all parties. From an insurer's perspective, there's a dramatic change in where they are deploying their capital. The reality is that most of the carriers (not all) are sitting on multiple versions of legacy technology and therefore still want to deploy their capacity through MGAs. However, they are becoming much more selective in who they work with.
Top-performing MGAs are also increasingly focusing on niche markets - I think that the days of providing vanilla products are limited.
Covid has also had a massive impact from the customer's perspective – the equivalent of a seven-year step-change in digital adoption. They now expect far more from the interactions they have with insurers.
Tony (Imperium): My observation as an MGA is that the market is far less forgiving than it was even six months ago. To be a successful MGA, you must have a good track record. For newer MGAs, this is hard. Gone are the days where MGAs can exist in the same way that they used to. In a niche market, you must demonstrate your people's expertise – focusing on specialist underwriting and leveraging technology.
Paul (MOTOSI Consulting): MGAs should be asking themselves, 'What is the value that I offer to the marketplace?' and 'How do I add value to capacity providers and other stakeholders?' It is demonstrable value that is in demand. If you can say to a capacity provider that you have access to a demographic and marketplace that they do not currently have, there is your value."
What role does data play in helping future proof MGAs?
James (INSTANDA): For the MGAs we work with, their carriers expect real-time transparency as a minimum. It is almost becoming the standard as opposed to just a value-add. In your experience, how integral is it to utilise data effectively?
Tony (Imperium): "At Imperium, we have created a whole data warehouse that effectively enables us to analyse our policies at a cross-section level, cover by cover, rather than at an overall level. One of our niches is farm insurance (iFarm), where there are seventeen different policy sections. Using data, we understand how each of those performs in a typical geographical area and at a broker level. This gives our insurance partner the confidence that we are in control of managing our ultimate loss ratio."
Paul (MOTOSI Consulting): "If, as an MGA, you can paint an accurate and full picture through your data, you can go to the capacity provider with a mirror of truth. You must be able to provide more than just data though. You should have the right people and technology in place to commercialise the data."
How can technology be used to strengthen MGAs?
James (INSTANDA): Regularly, I have conversations with MGAs who still struggle enormously with lead times. Even tweaking some wording or inserting a decimal is a lengthy and expensive process. It's a do-or-die situation now, though. Those MGAs that cannot quickly respond to the market are getting left behind. How should they be leveraging technology to future-proof their business?
Tony (Imperium): "If an MGA has an agile technology platform such as INSTANDA, they can make pretty much immediate changes. There's no development lead time of 3,6,9 months. At Imperium, we can dial up, dial down, change rates, and all in the same day. That's incredibly powerful to be able to do if your capacity provider identifies a negative trend and demands a quick adjustment."
Derek (Intelihub): "The diversity of enrichment sources to link into has changed dramatically over the last 12-18 months. If you look at the personal lines market in Scandinavia for instance, you are often asked just two questions – what's your name and your national security number? In the US, you are asked around four questions. With the advent of open APIs, it's opening the industry's eyes to how easily third-party data sources can enrich the view of the end-insured. Progressive MGAs have become adept at 'plugging in' these types of services into their digital ecosystem. Consequently, not only is the underwriting more accurate and informed, customer and broker user journeys are starting to become more streamlined.
What's most important?
James (INSTANDA): What would be your single piece of advice you would give an MGA?
Paul (MOTOSI Consulting): Data is a linchpin asset that sits within any business; if you can nurture and understand it, you will have a competitive advantage.
Derek (Intelihub): In an MGA model, where margins are tight, anything you can do to strip out a point or half a point in terms of ratio can make a big difference. The expectation of what great looks like has changed and MGAs must be open-minded to elevating their business to capitalise on that.
Tony (Imperium): You're only as good as the capacity that you have in place and so the more you align your interests with the capacity provider, the better. Data and technology are critical to that, and it can make that relationship easier and far more rewarding for both parties.
Concluding thoughts…
James (INSTANDA): There is no simple solution or 'silver bullet' – the reality is that it's a difficult market, and it will demand a lot of MGAs in the coming years. Technology is a part of the solution, but these businesses must ensure that they are also investing in their teams to select the most appropriate tools and implement them effectively. This is not always easy in the increasingly 'noisy' world of Insurtech.
In addition to this, it should also be noted that for MGAs to prosper in the long-term, the onus is not just on MGAs, but for those around them to step up too. This means suppliers – including INSTANDA – really taking the time to understand these businesses and their requirements to ensure that the maximum value is extracted from the supplier's service or product.
To watch a replay of the MGAA CPD accredited webinar, simply visit the MGAA website, and if you have any questions, please feel free to reach out to INSTANDA's James Elliott.
James Elliott, New Business Executive (MGAs) - INSTANDA
E: james.elliott@instanda.com
M: 07712 551517
Thank you to our contributors:
Derek Findlayson, Managing Director of Intelihub Consulting. Derek works with a range of MGAs, insurers, software, data and machine learning companies to help them accelerate digital transformation.
Paul Rich, Director of MOTOSI Consulting. Paul supports MGAs to deliver the optimal and best hybrid systems to leverage people, processes and technology.
Tony Lawrence, CEO of MGA, Imperium Insurance Management. Tony has experience in leading both MGAs and insurance brokers, with a desire to deliver leading value to customers by doing things differently.