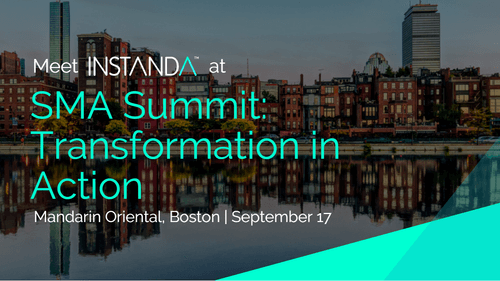 Come meet us at
SMA Summit: Transformation in Action
at the
Mandarin Oriental, Boston
on
17 September 2018
. Our CEO, Tim Hardcastle will attend the event, therefore, please feel free to email us on
sales@instanda.com
beforehand for a demo or simply grab a coffee with him for a chat. It's an amazing time to be in insurance – our industry is responding to the external influencers, the possibilities of emerging technologies, and the explosion of InsurTech. Insurers are building upon core transformation investments and embracing innovation as the foundation for change and transformation throughout the business. For seven straight years, the SMA Summit has been the only insurance conference focused on sharing and showcasing insurer success stories, lessons learned, and insurer use cases that reflect their transformation in action. The SMA research clearly shows that there is momentum:
More than 90% of insurers are investing in customer experience projects, digital transformation strategies, and advancing data with analytics.
72% of insurers cite changing customer experience and expectations are the number one triggers for innovation across all lines.
43% of insurers identify themselves as being in "transformation mode," and that figure is expected to rise above 50% next year.
See Full Agenda
About Strategy Meets Action (SMA)
Strategy Meets Action (SMA)
, is a strategic advisory firm delivering advice, consulting services, and published research to insurers, solution providers, and InsurTech startups. We provide insights and guidance to help our clients bridge today's business strategies, plans, and technology investments to the new world of customer experience, digital transformation, emerging technologies, and InsurTech. Exclusively servicing the insurance industry, our mission is to help our clients excel today and position for tomorrow with the right technology decisions as unprecedented changes take place in our industry.