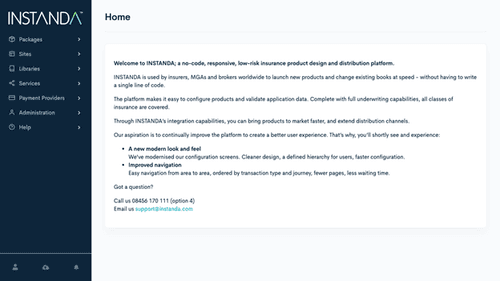 What's Involved in Our Insurance Software Demo?
INSTANDA isn't a standard website or software product offering limited configuration and customisation options. We put you, the insurer, in control by enabling you to configure insurance products, and powerfully align those products with clients' distribution channels.
Interested in harnessing the power of no-code to launch your insurance offering to new heights?
Our tailored demos to show you the fundamentals of the INSTANDA platform in a way that's straightforward and speaks your language.
Here's what to expect in one of our custom-fit INSTANDA platform demos.
L&H or P&C insurance software products?

Before you get started, the team at INSTANDA will work with you to tailor your demo and show how INSTANDA can tackle key challenges in your industry. We'll pair you with an expert in either the L&H or P&C insurance field so that you receive the most relevant demonstration of our platform's services and capabilities. We'll arrange a 30 minute introductory call so that we can fully understand your existing distribution channels, insurance product lines, GWP, and identify any unique pain points Ultimately, our team uses this session to understand your most pressing needs, enabling us to deliver a more targeted demo that addresses your biggest questions.
Getting to know INSTANDA insurance software
First, we'll help you get familiar with the platform's front end. With this approach, you'll get a feel of what to expect from a finished L&H or P&C insurance software product configured with INSTANDA.
The beauty of the INSTANDA platform is that it's completely product agnostic, and can be used to configure insurance products across multiple business lines.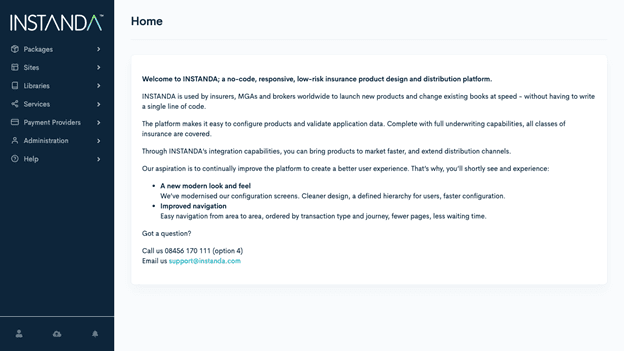 The platform's API's and flexible integration capability equips your organisation with the means to customise your product and distribution systems even further, (but it's not an essential component to get up and running).

INSTANDA's APIs go beyond creating and configuring insurance products. The platform empowers your design teams with HTML/CSS skill sets to uniquely customise UX design elements that streamline user experience from start to finish. Your team can create customer portals and touchpoints that aesthetically look and feel distinctly like your brand.
INSTANDA can help you build a complex journey.
What the user will see when using INSTANDA
Our uncomplicated and easy-to-navigate user-interface makes creating great UX design and customer journeys (for a wide variety of journeys) easy across channels.
To show you the platform in full swing, we'll remove a field or specific data points from an example document, demonstrating the platform's change agility in action. We'll republish and provide you a clear before and after.
Input fields can be customised as you build your journeys, and every step of the way you can individualise question sets to provide personalised experiences. Icons and banner images can also be customised to inject your brand's identity into the whole customer journey.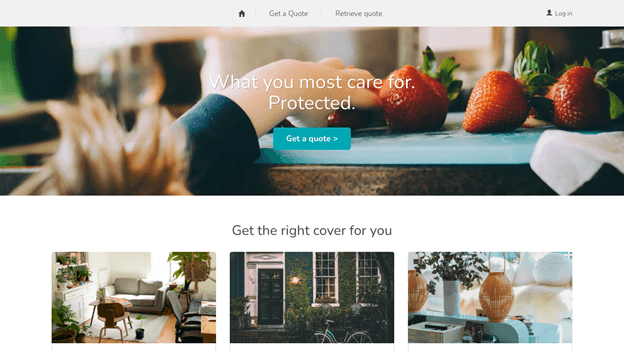 Plug and play insurtech in action
INSTANDA works as plug and play insurtech that can be easily incorporated into existing sites, or built as a separate site if insurers prefer and integrated into existing technology architectures.
As an INSTANDA user, you can choose which components you want to use. Site configuration is all about look, feel and style, and most importantly about the customer experience you deliver. Through our no-code insurance software, you can create, manage and maintain:

Our team will show you how the platform flexibly enables you to create (what we call "many-to-many" or "one-to-many") long-lasting relationships with your customers through personalised packages across either multiple or single sites.
What does a web based insurance management system look like?
After we've covered the front end part of the INSTANDA platform, our demo will take you through our backend — which acts as the nerve centre of our insurance software.
We'll give you a taste of how to build an insurance software product, and show you just how simple and seamless the main components and modules at the back end makes the whole process.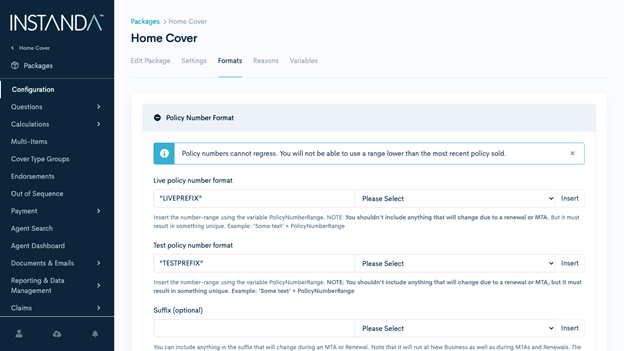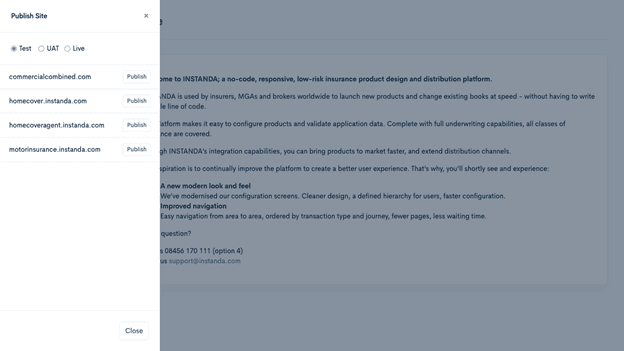 Exploring the backend of INSTANDA insurance software
In an INSTANDA demo, we visit some of the core areas of the platform including documents, reporting, questions and calculations. These components form the base of a product, meaning you'll have the tools to be equipped with an offering ready to go to market with.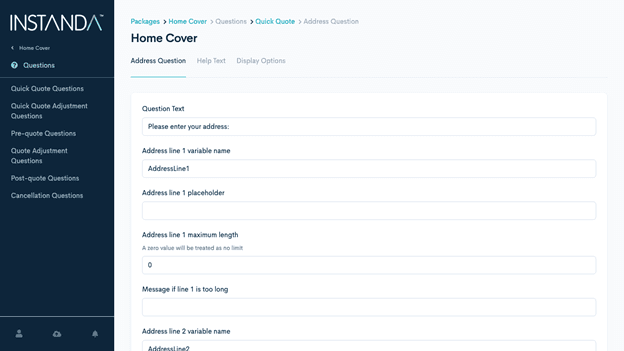 Documents
We'll run you through everything you need to know about creating insurance documents or customer-facing emails.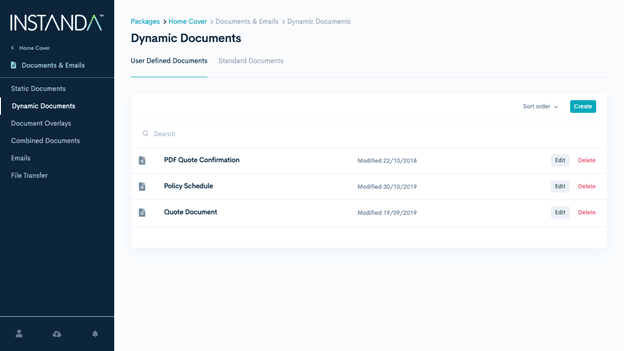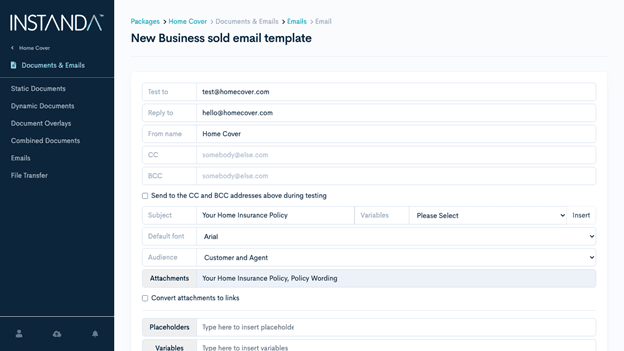 Reporting
Our demo explores INSTANDA's scheduled reporting capabilities that create detailed analyses of customer names, products, benefits, payment types and claims records.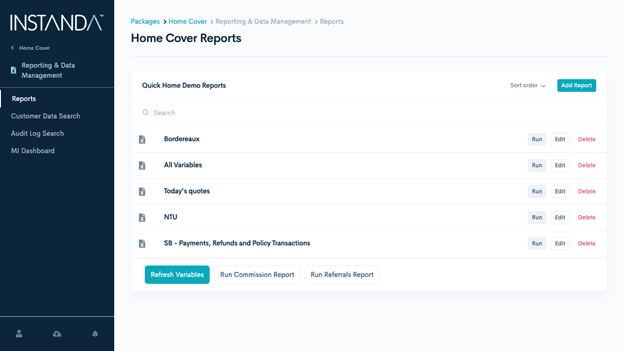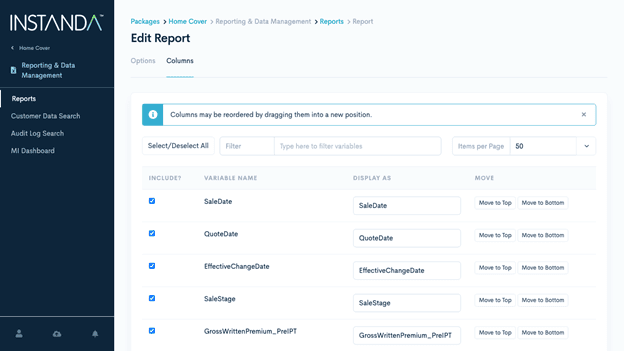 Questions
We'll show you that configuring hyper-personalised questions to suit risk management, pricing structures and adapt to changing customer requirements is super simple.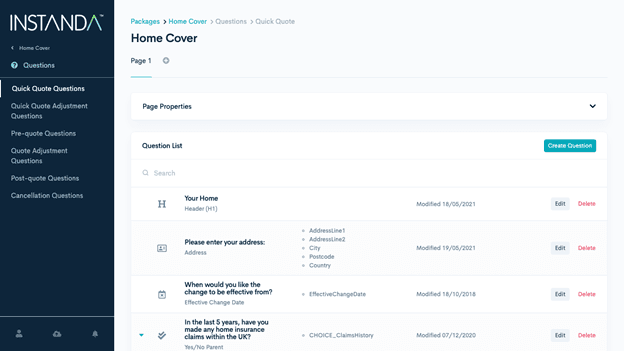 Calculations
To bring our demo full circle, we'll showcase how INSTANDA can help you streamline pricing or premium calculations without even compromising privacy or security.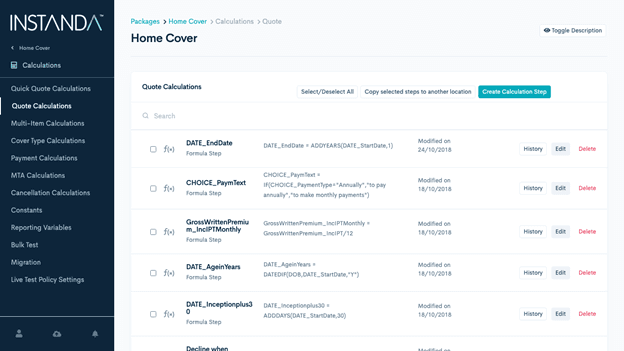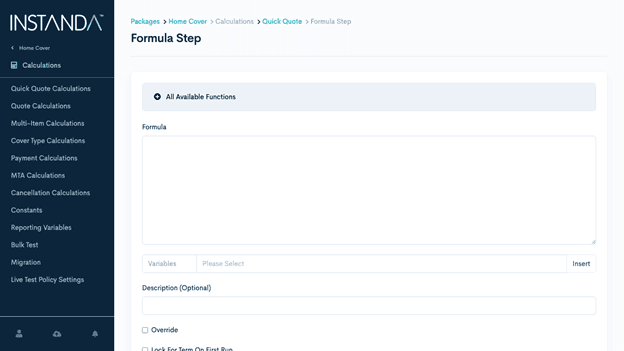 Discover an insurance software platform that's trusted by leading insurers worldwide
Whether digitising an entire business and multiple books, taking a vertical slice of an existing business, or launching a new innovative product, INSTANDA provides everything needed to design and launch new products.
To make sure you have everything you need, we'll go at your preferred pace. We encourage you to ask our seasoned experts any questions throughout the demo process.
Once you decide INSTANDA is the insurance software tool for you, we'll work with you to provide individual, step-by-step training so that your team can use the platform to its full capacity and with ease.
Kick-start your journey by requesting a demo of INSTANDA today.
If you've got any questions, get in touch with our team of friendly professionals to streamline your insurance life-cycle today.