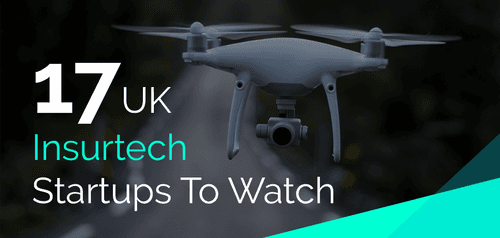 We are thrilled that INSTANDA has been chosen among 17 UK Insurtech firms to watch! Please read the article below by
Scott Carey
@
techworld.com
: In April 2017, Andrew Brem, chief digital officer at insurance group Aviva admitted the insurance industry is "
not known for its incredible radicalism
". That could be about to change, thanks to the UK's rapidly growing pool of insurance technology - or insurtech - startups. That trend, along with the development of mobile apps, investing in digital channels, hiring tech talent and analysing customer data, means the UK insurance industry is finally moving into the digital age. Recent research from London accelerator Startupbootcamp InsurTech and PwC, based on more than 1,300 startups across the world, shows that 75 percent of incumbent insurers "believe the biggest impact to the industry will come from building new products in order to address the changing needs of the customer". Here are some of the most innovative insurtech startups in the UK trying to build those products today...
Instanda
The Cambridge and London based startup Instanda could be considered the most pure play insurtech company on this list. It offers a management tool for insurers and brokers to build, launch, distribute and monitor new insurance products in a fraction of the time it would traditionally take. So what does that mean? Being tied to legacy insurance software systems means building and delivering new insurance products can be cumbersome at best. Instanda has built a tool which consolidates question sets, underwriting workflow, documentation, a rating engine and the customer journey so that underwriters can respond to changing market demands quicker than before. Instanda raised some non-equity assistance funding from the Microsoft Accelerator in March.
Homelyfe
UK startup Homelyfe aims to provide a single app to manage all of your insurance policies in one place. This includes getting quotes and purchasing to managing and renewing insurance policies, and even starting a claim.
Cofounders Peter Goodman and Andrew Craven launched the startup in October 2017. The pair launched social media advertising platform Brighter Option, which was sold to Buddy Media in 2012 before being sold to Salesforce later that year for $730 million. Homelyfe was borne out of frustration with the current way insurers operate. The team has built the entire tech stack from scratch, with its own rating engine and broker emulating system that pulls third party data to find out as much about the user as possible without having to ask a hundred questions. Using this method, the team claims they've got the process of securing home insurance - to be launched in February 2018 - down to less than four minutes.
Nimbla
Nimbla, which launched in 2016, says its mission is to 'ensure SMEs get paid'. Nimbla was one of 24 firms that made it into the UK Financial Conduct Authority's (FCA) regulatory sandbox in June 2017. Its goal is to help SMEs manage and protect their credit via its platform, which offers them credit control and single invoice insurance using cloud accounting, plus underwriting rules agreed upon by Munich Re's new business unit Digital Partners. The UK SME market writes off £5.8 billion in bad debt every year, according to a survey by Direct Line for Business. Nimbla says there is no minimum premium and no upfront payments - instead, it operates via pay as you go ledger insurance.
Cuvva
The very British sounding hourly car insurance startup Cuvva was set up in 2014. In the mobile app you simply enter the registration number and approximate value of the car you are borrowing from a friend or family member, choose the time you want to be covered for, take a picture of the car and Cuvva will get you an instant quote. Cuvva integrates with Facebook so that you can see which of your friends have cars to borrow. Cuvva queries various data sources to check driving licence data (The Driver and Vehicle Licensing Agency's MyLicence scheme), the Claims and Underwriting Exchange and automated fraud protection to verify coverage quicker than legacy players can. Cuvva is based in the Barclays accelerator in London and raised a £1.5 million seed round led by LocalGlobe in January 2017, bringing its total funding to nearly £2 million.
Cytora
Cytora has developed a piece of technology it calls Risk Engine, which can be used by commercial insurers to help them target and price risk using AI algorithms.
The startup was incubated at the University of Cambridge's Judge Business School Accelerate Programme and was initially supported by Cambridge Enterprise, the University's commercialisation arm.
None of the founders actually went to Cambridge, but they aren't lacking in impressive academic credentials. Cytora was founded in 2014 by CEO Richard Hartley (UCL), CTO Aeneas Wiener (Imperial College London), chief research officer Joshua Wallace (UCL) and CCO Andrzej Czapiewski (University of Edinburgh).
The firm has already developed partnerships with big name insurers like QBE, XL Catlin and Starr as it iterates the Risk Engine before launching commercially.
Cytora has raised a £4.4 million founding round in December 2017 from investors including Starr Global Holdings, QBE Ventures, Cambridge Innovation Capital, Cambridge Enterprise, Parkwalk Advisors and angel investors Ilkka Paananen and Paul Foster.
InMyBag
InMyBag was founded by former head of digital at insurer Zurich, Iain Harper. The idea for the startup came out of some research done by venture capitalist firm Hambro Perks that showed a gap in the insurance market for mobile workers who are reliant on their technology. Aimed at mobile workers, InMyBag insures devices like laptops, phones and cameras. Instead of having to wait weeks for a new device InMyBag works with Amazon Prime and Apple to guarantee same day replacement of the devices by either fixing them or loaning you a device, wherever you are in the world, and will recover your data too. Harper told Techworld that InTheBag wants to "help first and ask questions later, instead of trying to wriggle out of claims, which has led to the poor reputation of traditional gadget insurance providers". Plans range from 'the £1k bag', which covers devices up to a value of £1,000 including same day resolution, worldwide cover and 1 click CrashPlan recovery for £11.99/month to 'the custom bag' aimed at workers with lots of kit, such as photographers, for £30.99 a month.
Brolly
Brolly is a London-based startup that is uses AI technology to give customers a mobile insurance locker, advisor and shop, cutting down on costly renewals and coverage gaps. Brolly graduated from the sixth Entrepreneur First cohort in September. The mobile app has three core features: locker (stores your existing and expired policy documents), advisor (suggests coverage you may need) and shop, which is due to come online in the summer and will allow customers to purchase policies direct in the app. Brolly is building out its database and machine learning algorithms so that the app can see where you are under or over insured and suggest better deals by surveying the market. Brolly raised a £1 million seed round in July 2017, led by Peter Thiel's Valar Ventures, Pi Labs and Entrepreneur First.
Buzzmove
The startup that makes it easier to move house Buzzmove is leveraging its data to build a tool for contents insurance. The CEO Becky Downing told
Techworld
: "The buzzmove value proposition revolves around the home and people's belongings. We're using innovative new tech to use our existing distribution channels and processes in the removals industry to collect unique and highly accurate data on what people have in their homes." Buzzmove is building a tool that Downing says will do for contents what telematic apps did for motor insurance which "will provide household insurance companies with accurate insight into their customers' household contents. This means that insurance companies can better correlate their premiums to risk and provide customers with a much better deal," says Downing. Buzzmove raised a massive £6 million funding round in August 2016, led by White Mountains Insurance Group.
Digital Fineprint
Digital Fineprint is using machine learning technology to make smart insurance policy recommendations to users which opt in to the service, based on their social media data. For example, using LinkedIn data gives a pretty good indicator of income, and Facebook can give a good indicator of a user's appetite for risk when it comes to a life insurance policy. You may well raise your eyebrows following the Admiral-Facebook disaster - where UK insurer Admiral hastily withdrew plans to use Facebook posts to set insurance rates for car owners last year, after Facebook said the scheme breached its privacy rules. However, Digital Fineprint founder Erik Abrahamsson told Techworld that it is company policy to never contravene guidelines in this way. The Oxford graduate Abrahamsson said: "Insurers are worried about millennials being undersold or wrongly sold policies, so we present what is the right policy for someone using social media." Digital Fineprint is currently sat in Accenture's Fintech Innovation Lab in London and has raised £400,000 in seed funding.
Digital Risks
Digital Risks is an insurance specialist built for tech companies, offering a flexible, pay monthly Insurance-as-a-Service model. A founder could start out by protecting their laptop and end up with employer liability insurance and insurance against data breaches as the company grows. When it comes to cyber security risk, Digital Risks wants to reach a point where, like with wearables and health insurance, it can use penetration testing to develop dynamic risk models depending on the robustness of a company's security. Digital Risks has raised £300,000 on Angels Den and is planning another funding round soon.
Neos
Neos is a London-based startup that packages together best-in-class IoT enabled hardware, 24/7 support and unlimited building and contents home insurance, all managed from a mobile app. From the app, customers can look at dashboards or live camera feeds, respond to issues like an intruder alert or a leak and contact the Neos team to get a professional sent out for response. Neos raised a £5 million Series A investment round from Aviva Ventures and Munich Re in May 2017. Neos policies are underwritten by Great Lakes Insurance SE, which is part of Munich Re Group.
Back Me Up
Back Me Up is a British startup offshoot of big Belgian insurer Ageas, who they describes as "a responsible parent who makes sure we do everything properly". The Back Me Up insurance proposition certainly looks like it was built for the millennial consumer. For £15 you get coverage for your three most valuable items (say: laptop, camera, bike) as well as phone screen, keys and travel insurance. You simply have to sign up and send pictures of your three items to get them covered. You can also bolt on things like landlord cover, extra items and breakdown cover.
Spixii
A chatbot for insurance may sound like a bad elevator pitch, but Spixii has some pretty smart technology behind it. Spixii is an "automated insurance agent" which essentially lets you buy and manage your insurance through a chat interface. It is still in beta but essentially it promises the ability to ask Spixii, for example, to insure your bike, when your renewal date is and any other queries you may have when it comes to insurance. Based out of the Startupbootcamp InsurTech incubator in London, Spixii was founded by a self-described "band of geeks" from technical and insurance backgrounds, with cofounder Alberto Chierici coming from a data science and actuary background and Renaud Million an actuarial consultant at Ernst and Young. In terms of funding Spixii has been backed by the Startupbootcamp incubator.
Luther Systems
Blockchain specialist startup Luther Systems is working on a secret bespoke product for insurance giant Aviva around simplifying contracts. Luther promises the ability to create smart contracts using templates before securely distributing them and the receiver can even virtually sign. The insurance industry is naturally interested in how the distributed ledger technology can improve its back office processes and Luther Systems appears to be leading the way with its high profile partnership with Aviva. Little is known about the company but it is based out of the Aviva sponsored Founders Factory accelerator in London.
Insly
Insly is a cloud based platform for insurance brokers. You can search and manage clients, policies, objects and payments in one place. It is cloud based, so brokers can access the system from anywhere. It is essentially a customer relationship management (CRM) platform - like Salesforce or Workday - for the insurance sector. Insly is a Startupbootcamp Fintech alumni and raised a £850,000 funding round in January.
Rightindem
The claims process tends to be the most painful part when it comes to motor insurance, and the startup Rightindem is trying to smooth it out by giving claims brokers self-service tools for total loss claims. Founded by automotive industry veteran David Stubbs, he claims that their IT tools and call scripting reduce the average claims leakage by over £500 per claim for its pilot customers. The system is built on an automated vehicle valuation service, which helps claims handlers spend more time with customers and less on admin. The product is currently in private beta and is working with major UK insurer Admiral. It raised a £500,000 seed round led by Startupbootcamp in December.
Worry+Peace
Buckinghamshire-based insurtech startup Worry + Peace allows customers to directly purchase insurance and manage all of their policies in its Pouch platform. Founder James York is a former underwriter, and he told Techworld that the idea for Worry+Peace is to take an "Amazon approach" to insurance by ensuring that they "stock everything we can". The result is that Worry+Peace insures everything from £14 travel cover to £20,000-plus premium business insurance from a range of providers, all on one platform.