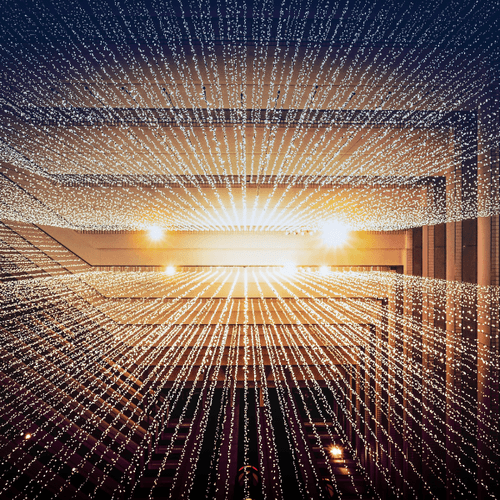 The insurance industry is going through a period of rapid change. This has largely been driven by a combination of changing customer expectations and developments in technology, not forgetting the acceleration of digital transformation due to COVID-19.
The demand for hyperautomation is driven by a strong need for automation of business and IT processes. By 2025 the market for software that enables hyperautomation is expected to reach nearly $860 billion, with a CAGR of 12.3%.
As the world's population continues to rise, so will the need for insurance products. The need to design, build and launch products to market quickly will increase, and you need to be ready for that.
Our article outlines how hyperautomation can help solve numerous problems that the industry is facing, including cybersecurity, back office system inefficiency and data quality. Solving these problems can help build a more efficient, lucrative future for us all.


Automation vs. Hyperautomation
In this section, we'll break down the key differences between automation and hyperautomation.
What is Automation?
IBM defines automation as 'A term for technology applications where human input is minimized. This includes business process automation (BPA), IT automation, personal applications such as home automation and more.'
Automation comes in many forms but, for the purposes of this article, we'll narrow them down to two main distinct types:
Rule-based - This is when a system is designed to serve a very specific purpose in a specific set of circumstances. It does very well in narrow, repetitive situations with little to no unknown variables. For example, trading bots work on an 'if/then' rule — they are pre-programmed to make trades if a certain criteria is met. This is the limit to their functionality.
Cognitive - This style of automation is closer to the way the human brain works. It's more dynamic and, unlike rule-based systems, it can adapt better to fluid situations by using previous experiences. For example, an OCR (optical character recognition) or NLP (natural language processing) system can read or process information that can vary wildly in structure and context instantaneously.


What is Hyperautomation?
According to Gartner's Glossary, hyperautomation is a business-driven, disciplined approach that organisations use to rapidly identify, vet and automate as many business and IT processes as possible. Hyperautomation involves the orchestrated use of multiple technologies, tools or platforms, including:
Artificial intelligence (AI)

Machine learning

Event-driven software architecture

Robotic process automation (RPA)

Business process management (BPM) and intelligent business process management suites (iBPMS)

Integration platform as a service (iPaaS)

Low-code/no-code tools

Packaged software

Other types of decision, process and task automation tools
Think of it as the process of simplifying and increasing the efficiency of countless tasks by using advanced but increasingly easily applicable technology.

The table below shows the key differences between the two technologies.


| | |
| --- | --- |
| Automation | Hyperautomation |
| Carried out by automation tools | Carried out by machine learning and automation tools |
| Simpler RPA (robot process automation) and task-orientated automation | Sophisticated AI-based process automation |
| Specifically designed for increasing efficiency | Designed for both increasing efficiency and increasing the intelligence of the process |
| Automated according to necessity | Automation is driven by continuous improvement |
| Automation is done on a single platform | Automation is carried out across an ecosystem of platforms and systems |
How Can it Benefit the Insurance Industry?
Hyperautomation can, and in some cases already is, benefitting the insurance industry in a number of ways. We've highlighted some of the most notable methods below.
Digital Underwriting
Underwriting is one of the most time-consuming parts of most insurance processes. It is also the stage of the process with one of the highest drop-off rates as people often seek out alternatives if they find things are taking too long. As a result insurers are very vulnerable during this period.
Digital underwriting uses innovative technologies and new data sources to achieve greater agility and efficiency in the insurance back office. This is done by automating manual, laborious and time consuming tasks. Digital underwriting frees up a significant portion of an underwriter's time. They can then spend that time providing an excellent customer experience to their clients.
Seamless Claims Automation
An insurance claim is a formal request by a policyholder to an insurance company for coverage or compensation for a covered loss or policy event. The insurance company validates the claim and, once approved, issues payment to the insured or an approved interested party on behalf of the insured. The experience of a policy holder's claims process is crucial in their decision to remain a customer of a particular insurer.
As a result, if the claims process is excessively long or disjointed, prolonging the distress and uncertainty of the claimant, it's likely they will move on to a new provider as soon as possible, meaning lost revenue for the insurer.
Hyperautomation reduces the chances of this happening by:
Auto-ingesting all the relevant claim documents

Automating the segmentation and assignment processes

Auto-adjudication

Instant payouts
These actions increase the efficiency of the process as well as simplifying it.
Efficient Document Ingestion
Self-learning AI models can almost instantaneously process documents as well as extract, recognise and interpret information in context. As a result, by the time the documentation gets to the human later on in the process, it's much easier for the person to understand what's happening and to make more informed decisions.
The volume of documents now poses less of an issue as the volume of work required by humans has been significantly reduced by technology.
The productivity levels of the employee are likely to increase, in turn, providing employers with a better return on investment on their employees.
In a nutshell, hyperautomation is already supercharging insurtech solutions.
Prepare for Hyperautomation with INSTANDA
Our no-code platform enables you to take advantage of hyperautomation so you can increase efficiency and speed to market.