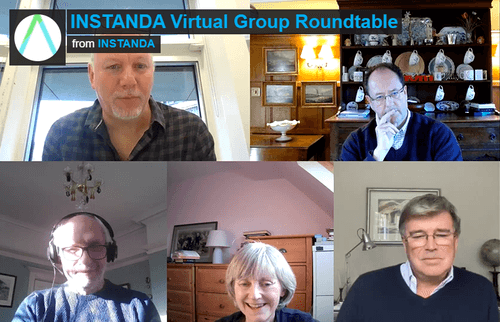 Group insurance has had to evolve due to changing demand and needs. A number of factors have contributed to these changes, some of which were recently discussed in a virtual roundtable —Adapting to a changing World. What role does digitalisation and technology play in growing the Group market?

The round table included some of the best insurance minds in the country, including our very own Simon Candy (Senior Propositions and Business Development Manager, Life & Health), Robin Merttens (Co Founder and Partner at InsTech London), Ron Wheatcroft (Technical Manager of Swiss Re), Andrew Briant (Managing Director at Compass Underwriting), and Ruth Gilbert (Digital Life Insurance designer).
They discussed a wide range of interesting topics, including the impact of Covid-19 and how digital growth will affect group insurance.
The Impact of Covid-19 on the Protection Market
The sheer breadth of negative consequences associated with COVID-19 has shown everyone the importance of peace of mind if things go horribly wrong.
From the industry side, the pandemic revealed that when pushed, the industry as a whole can be more productive than previously imagined. As restrictions prevented previous legacy channels from being used, digital channels became crucial to keeping firms operational.
However, due to the speed of adaptation required, the success of the transformation may have been overstated. There were a few different reasons for this:

A lack of adequate disaster planning.

The scale of the direct and indirect effects of Covid-19 on the protection market.

The lack of time to properly develop meaningful, long term transformation plans.
This meant that any progress was akin to putting "digital lipstick on a legacy pig". Firms have essentially invested in emergency adaptation, rather than long term strategic planning. This means that the core of their offering is still inadequate once the dust settles.
It's important that firms don't get the two confused and think they're ahead of the curve, when in fact they are still behind (they just managed to not get crushed by the wave).
The COVID-19 Opportunity
The shift in attitudes toward insurance has created an increase in demand and interest. People of all ages are now looking at protection and health needs more because of the pandemic. Those people are now more aware of the products available to them, and are more likely to seek it out. This behaviour is likely to trigger greater interest and perhaps appeal to new businesses who haven't ordinarily considered group insurance.
Despite the uptick in customers and potential customers, there still needs to be caution. More time needs to pass before we know for sure if increased demand for insurance products is just the after effect of an extreme situation. Things could, in theory, return to normal — i.e. insurance could become a grudge purchase; something we don't want to do.
On the other hand, the pandemic could permanently change consumer attitudes towards protection as a whole. The next few months and years will provide more insight.

The Digital Challenges for Group Insurance
There is perceived confusion around ownership of the customer.
Where you have a number of different stakeholders, insurers, intermediary, employer etc.
Digitising the group underwriting process, whether that be Scheme or Medical Underwriting can help reduce friction and increase efficiency. The majority of members on a group scheme are not medically underwritten, whether through a moratorium or MHD arrangements for PMI to being under the Free Cover for Group protection. It is about how to make the process slicker for those that need to complete medical information.
Digital Transformation in Insurtech Post Covid
As we mentioned before, there has been a lot of 'doing the obvious' being disguised as transformation. For example, upgrading communications from post to email. But now that these long overdue (but minimal) upgrades have been made, insurers have an opportunity to improve on a more holistic level. To compete in today's market, a more strategic approach to digital transformation is essential and should be a key focus.
Covid has shown what can potentially happen if investment isn't made into digital transformation, as well as what can happen if it is. Sometimes, seeing both sides of the coin is required for decision makers to invest. We're optimistic that this is the case.
The NHS App for England and the Isle of Man has over 22 million users, 18m of whom registered after the the NHS COVID Pass was added, which has made medical data far more accessible to patients than it previously was. The app and access to the app is something that could be considered as part of a medical underwriting process to speed up collection of relevant medical data.
Embedded Insurance
Embedded insurance presents a great opportunity for the group market. The effectiveness is around receiving real time information and needs of the employer and their employees.
It can provide a vehicle, similar to a 'Trojan horse', but with good intentions, to provide customers with policies that are tailored to their on-going needs based on real-time data.
This can be particularly useful if B2C-focused partners have a superior digital presence to an insurer, which can often be the case. Leveraging the brand perception and customer base of another company can be a great and underutilised way for insurers to grow their revenues and profit margins.
Product Simplification and Generational Shifts
At the core of everything, customers want a better experience and cheaper premiums. On the surface these may sound like simple things, but in today's industry, which is constantly in flux and at the mercy of technological developments and societal changes, it can be difficult.
Enhance Your Group Insurance Offering With INSTANDA
Get to market faster with more effective products by using our platform.