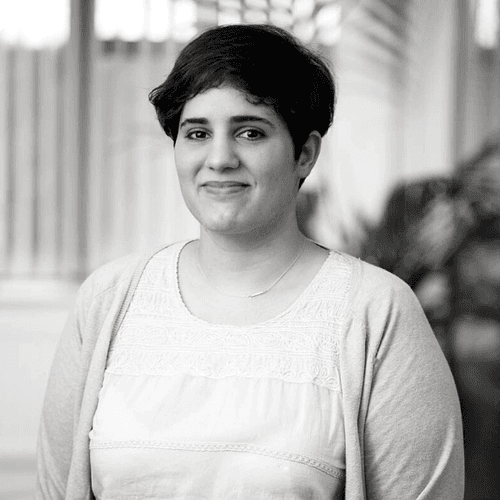 We sat down with Rocio Garcia, INSTANDA's UI Lead, to chat about how creating great insurance UI/UX is actually quite simple - it's all about making your customers' life easier.


Tell us about your role in INSTANDA
I'm the UI lead at INSTANDA. It's a bit of a hybrid role, part of which is in client delivery. I oversee the design team and we work on implementing the UI for client projects.
When the clients are building a new insurance product, we talk to them about their UI and UX, their needs, their journey, and then we help them implement that.
On the other side, I work with solutions and engineering, looking at the INSTANDA platform and seeing how we grow it and build new features.
Why is insurance UI/UX different?
I think the user journey in insurance specifically is about reducing complexity and friction.
Insurance is not really something that you actively want to do, like buying shoes or concert tickets. A lot of the time, it's also hard to read through and understand.
We need to make it comprehensible and, even if it's a long journey, make it digestible for the people who are buying it. They need to be able to understand exactly what they're doing and to be able to control that process and feel like it's in their hands.
It's about keeping your customers in mind from the very beginning from when you're building your product. Understanding their needs and not just thinking about what it looks like and how you can make a nice UI.


What are the main challenges in creating great insurance UI/UX?
The first challenge is people don't normally buy insurance because they want to. It's something that they need either for themselves or their business. There are a lot of negative emotions about it being long and full of small print.
"I don't understand what they're asking me. Why are they asking me about my roof? I have no idea. I don't know what kind of bricks are in my house."
All these things are a bit irrelevant to the person who's filling it in.
There are some products that are really simple and they can be really short. Or people are really familiar with them because they've done it a few times, so they're easy to go through.
Others are going to be more complex. Commercial products, just by their nature, tend to be lengthier and a bit more complicated. That doesn't mean that you can't break it down into its components and try to make it a bit more fluid.
Even if it is long, you can still set expectations. You can be up front with your users, telling them the length of the process and the information required, and promise to guide them through it. Treating them with respect and giving them the help they need.
Your users aren't always the customers. Sometimes they're going to be agents or intermediaries. They're obviously very different, so the way that you speak to them and the way you interact with them is on a different level.
You need to simplify their job as much as possible. You need to make sure that it's easy and they don't get frustrated because they're doing something 30 times a day.


How can great UI improve the customer experience?
It's about that simplicity; making things digestible and easy to understand.
Having great UI/UX in your journey gives it a tone, which helps to create an identity for yourself. Are you very simple and clear to understand, or are you a bit jokey and informal?
As well as this identity, great UI/UX helps to make you more memorable. If the journey was a bit long but it was easy to follow because everything was broken up into digestible chunks, it'll create a positive impression.
How is your claims experience? A colleague was asking about what insurance they should get, and pretty much everyone said it's not just about the price but about the claims experience and how easy that was. Those post-buying touch points are so important.
What advice would you give to insurers who are starting to take this seriously?
I would recommend that they think about their customers from the very beginning.
Instead of building your new insurance product and then getting an agency to make it all pretty, take it back to the very beginning and think about your user experience.
How you build your questions, your covers, your add-ons. How you rate, how you communicate with customers — and even how you're underwriting.
You're not just supposed to make your underwriters' life easier. You're also supposed to make your customers' life easier. If you're asking someone 50 questions, about the bricks in their house and the material in their windows, is that for your underwriter or is that for your user?
At every step of the process as you're building it, ask "is this cool with my users"? Is there a way that I can validate that? Is there any testing I can do?
Then when you do launch your product, keep checking in with your users and your customers to make sure that you're on the right path.
Your product shouldn't remain static once you go live — you should still make changes, validate them with your users, and implement any feedback from your customers.


What value can INSTANDA add for insurers, regarding their UI/UX?
The INSTANDA platform is super configurable. You can tailor your UI for one product and then build it completely differently for another. It allows you to be really versatile and gives you the opportunity to test and launch new products.
When you have an idea for a product, you can test it out quickly. You can build it, launch it and then try it for real in the market.
Does it need some changes? You can do them right away. Does it not work at all? That's fine, you can go back to the drawing board and quickly try again. It's a very easy way to kickstart new products.


Looking to the future, what improvements or changes can you see on the horizon?
There's a lot of talk about how insurance can come out of its normal space; where you go onto a website to buy it and see where else we can put it. Can it be embedded into other products? Can it be a one-click thing? Can you buy it with your smart speaker?
There are a lot of insurance products that blend into your life, like driving, where you have a black box in your car and your policy changes based on how you drive. There are health insurance products that use your smart watch data to track your activity to earn rewards.
It's all about interacting with your insurance policy in a way that's unobtrusive. Making it not just a thing that you buy and then you leave it in a drawer somewhere, only picking up the papers when something happens. It's just part of your everyday life.
How can we empower users so they're always in control of their insurance, and not the other way around? So that we always ensure the insurance is tailored to the user, and we're not selling them covers or add-ons they don't need or aren't relevant to them.
Thank you very much to Rocio for all of her brilliant insight. If you'd like to find out more about how Rocio and her team can help you simplify your customer experience, be sure to contact us, or schedule a free demo.