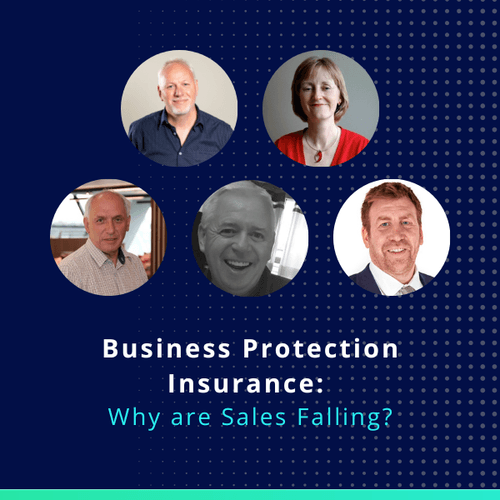 Business Protection Insurance: Why are Sales Falling?
According to Swiss Re's Term & Health Watch 2022 Report, business protection sales have fallen by close to 50% over a two-year period. What are the underlying reasons behind this, and how can brokers and advisers increase demand?

This, and other topics were the focus of our recent roundtable featuring expert panel members Simon Candy, Ron Wheatcroft, Ruth Gilbert, Jim McLaughlin and Lee Thomas.

Throughout the hour-long session, the panel discussed if and why business protection insurance is failing against other products and how brokers could buck the trend. This type of cover usually protects businesses when owners and/or partners are affected by illness or death. However, there are several complexities which we'll get into below.
This article gives you a rundown of what was discussed in the roundtable, including insights, pain points, and current trends.
Is the cost of living crisis affecting business protection insurance?
With the global economy in crisis and many businesses still dealing with the aftereffects of the covid-19 pandemic, the question turns to whether the current financial situation could be to blame for the fall in business protection sales.
Businesses, which in some cases, are struggling to keep the lights on, will naturally be more frugal in their spending habits. They might not prioritise something as discretionary as their protection needs at a time when energy prices are through the roof. In this instance, the fall in sales could have nothing to do with the product, but everything to do with the state of the economy.

However, as a member of the panel points out, the concept of risk is more present than ever in people's minds. Consumers have just come through covid and understand how fragile their health and their business' financial situation could be. With that in mind, perhaps business protection isn't that difficult to sell; there just isn't enough people doing it.
Are there enough brokers selling business protection?
One key trend noticed amongst the panel is that there simply aren't enough brokers and advisers willing to sell business protection or to pass the case to somebody with the relevant expertise, using signposting or referrals. Many providers who deal in protection. such as mortgage brokers and IFAs, only do a few sporadic policies, or they have a very narrow focus on protection. 

For example, the majority of mortgage brokers will only offer life cover, whether that is level or decreasing term There's a growing need for providers who sell protection to widen their parameters or for commercial brokers to consider expanding their insurance services.
Why are brokers avoiding business protection?
While business protection products are relatively simple in concept, they require advisors and brokers to ask the right questions to business owners to ensure they're offering the correct level of cover. There's a potential training gap in educating advisers and brokers on managing customers interested in business protection.

For example, to sell key person insurance or shareholder protection, brokers need a good level of knowledge about the products and enough confidence to sit down with a business owner or partner, and ask them the relevant questions. If done well, it can actually be quite a complex bit of advice involving considering multiple levels of risk, understanding where that risk lies, and what policy the customer should use.

The complexity isn't really so much around the products but around the risk assessment of the clients and assessing what their needs are. 

If brokers are focused solely on products within their level of expertise, and business protection seems a bit complicated, this could be a barrier to providing this as a protection solution regardless of how integral it is to business continuity and survival.  

Is business protection terminology too confusing?
Another problem area for business protection, is whether there's too much jargon and complexity around its terminology and language. The term 'business protection' is fairly ambiguous and can be misconstrued. 
While some refer to it as business protection, others refer to it as key person or shareholder/loan protection. The lack of standardisation could cause confusion and disinterest in the products. Business protection could also be confused with other types of general insurance, such as business interruption or liability cover.

To solve this, the panel suggests using 'key person insurance' as one blanket term, with different features underneath it. There's an increasing need for a common definition which people can be universally aware of.
Bridging the gap between commercial and life
The insurance industry is still very much configured around regulatory status. There's commercial, life, general insurance, etc., and there's often little crossover or conversation between these areas. In this sense, it could be argued that the industry is not putting the consumer's needs first, and brokers need to be pointing more customers in the right direction more often.

Suppose advisors and brokers act based on consumer need, and consistently identify and tell them about the risks they're facing. In that case, this could drive awareness for products and services such as business protection. For example, if a commercial insurer saw an opportunity in which a customer needed life cover in place against the death of a key person, they address that need and partner with a long term insurer to service their needs instead of having the view of 'we don't deal with that'. This might be a short-sighted view as another broker or adviser may offer a more complete service and secure all the cover needs for that customer. By bridging the gap, more brokers would be able to offer key person insurance and improve their proposition and this could drive interest and sales.
How INSTANDA could help your business
The life and health market is still scattered with inefficiencies and inadequate processes.

With our InsurTech platform, users can access the support they need whenever they need it. Your customers will no longer have to wait for documentation, work with lengthy manual processes, or pay premiums driven by operating expenses rather than need.
Our end-to-end platform creates authentic interactions and personalised customers, solving critical business challenges.

Interested in learning more? Book a free demo today.