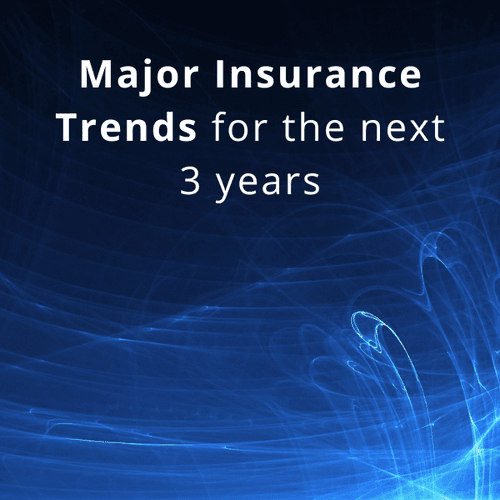 According to Gartner's CIO Survey, 58% of insurance respondents reported that the COVID-19 pandemic had sparked an increase in funding of digital innovations within their organizations. Digital transformation is rapidly accelerating in the insurance sector, which has driven the adoption of insurance technology among large-scale MGAs and insurance carriers. Investments in technology have become a priority for insurance providers and will remain so over the coming years. 
In the next 36 months, the insurance industry will further transform. Insurers will see greater adoption of no-code platforms that increase speed-to-market and find themselves migrating from legacy systems to cloud-native platforms. Read on to find out five things we think all insurers will do by 2025.
1. Scaling down legacy systems
As new no-code technologies emerge within the market, the heavy resource cost of legacy systems is becoming more apparent. Over the next 36 months, we will see a greater number of insurers opt to replace or augment legacy systems with new tech innovations. 
Reducing the reliance on legacy systems allows insurance providers to solve slow risk pricing and claims processing, create faster end-to-end quotes, and to quickly deploy and manage solutions.

2. Facilitating betterment with health tech
Life and Health (L&H) is an area of insurance ripe for disruption through technology. The industry is currently facing fundamental challenges and struggling to create offerings that will expand its markets and reach younger audiences. 
Some progressive insurers, are already producing offerings that incorporate healthtech and solve genuine customer problems. 

With data gathered from wearables (in the form of Apple Watches, FitBits, etc.), Insurers can change their customers' premiums on a monthly basis, according to their level of activity. Over the next 36 months, we will see more insurers follow in these footsteps to start using health to encourage healthier habits in customers. 

3. Offering hyper-personalized insurance
Data-driven hyper-personalization will see further adoption within insurance. Providers will use big data to analyze patterns and changes in consumer behavior to identify and even predict the products and services they need. 

Hyper-personalization products are already on the market. For example, InsureApp creates personalized insurance by gathering and interpreting data from smartphone sensors and Internet of Things (IoT) devices. 

Customers can install the app and consent to being tracked and monitored. The algorithm then predicts issues or accidents and gives advice for the customer to take action when needed through timely notifications, for example, for driver coaching recommendations. 

4. Transforming customer experiences
Customer expectations have increased in the insurance sector, and hyper-personalization is one way to meet them, but we will also see insurers look to improve their customer experience (CX) in the coming 36 months. 
Using open CX technology such as APIs, insurers can make bespoke products that react to real-time data. Information such as location for travel insurance, or health status via wearable technologies can be used to cut down on data entry will help insurers offer personalized products quicker. 

However, to keep customers satisfied, insurers must remember that CX technology is not a 'silver bullet'. Providers will need to strike a balance between using digital capabilities and relationship management. Customer preferences vary, and data needs to be carefully monitored to provide each customer with the journey and touchpoints they're most comfortable with.

5. Agile product development
According to the Forrester report, The Future of Insurance, successful insurance companies will focus on customer value and agility. Over the coming 36 months, we will see a shift in digital insurance strategy that will put a greater focus on customer outcomes.
As such, insurance providers need to position their company within their customers' ecosystems and source capabilities from a range of partners. This strategy will change the experience for customers and will go from paying claims to preventing claims.

Agile product development will be key in delivering these strategies. It gives providers the opportunity to design, build and release products quickly and efficiently. By quickly testing new products and offerings, providers can make themselves stand out and provide greater value to their customers. 

The flexibility that agile provides means that insurers can react to the continuous disruption in the market with ease. Even with thorough planning for the future, life can be unpredictable – as we saw from the pandemic.

The moving parts of the insurance supply chain can change rapidly through influences such as a global pandemic or connective technology. The core ideas behind agile product development are to incorporate speed, flexibility, and resilience into strategic design roadmaps. By removing three-year roadmaps for product development and changing to stories and sprints, insurers will become lightweight and able to react quickly to the changing needs of their customer base.
Build the future with INSTANDA
INSTANDA's Core Insurance Platform is ahead of the curve when it comes to agile ecosystems. MGAs and Insurers can partner with INSTANDA and open the doors of opportunity to design and build products in-house with no-code technology, significantly decreasing your time-to-market. Reach out to learn more about INSTANDA Core Insurance Platform.