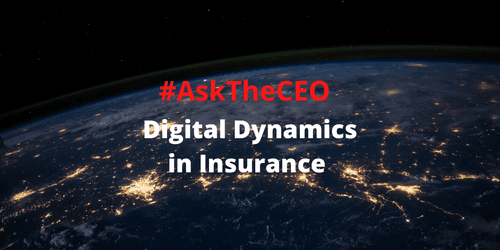 Greg Murphy, EVP North America for INSTANDA, chats with Avrohom Gottheil on the latest episode of the #AskTheCEO podcast. In this episode we share how INSTANDA's partnership with Microsoft, our use of Azure, and the Azure Marketplace has empowered INSTANDA to scale and grow the business.
Over the past few years businesses have gone through this process of digital transformation. For those that have been slow to adopt to new technology, the crisis of Covid-19, has forced their hand, what are some of the challenges that insurance carriers struggle with as part of their digital transformation experience.
"There are four things that come to my mind on this topic. The first being challenging companies to be transformative. I can't tell you the number of times, that I hear people say they are transformative. The Executives are passionate, they're fired up about this, but when they get down to what are we going to do, a lot of the time we're re-paving the cow path with the same technologies. So truly being transformative is the number one piece of advice I would give and really getting into a transformative mindset.
The second is using the right metrics. I've been involved in a lot of transformative projects and initiatives where the exclusive metric was sales. Sales is always important but if that is the only item for transformation then you often will leave things on the table. Things like customer retention. Customers might be walking away from you because you're not being transformative and you don't even have an eye on that.
The third item is budget. And the way I would put this is getting the budget and keeping the budget. Because being transformative and doing things differently, it takes courage, it takes commitment, it takes what I would call intestinal fortitude, and it requires investment, and if you invest in something, you continue to invest in something and work on the right metric then you will be much more successful.
Then lastly, dealing with legacy technology issues. If you are constantly trying to use your old technology to be transformative then, you're going to struggle with that. I've seen great ideas killed by not thinking outside of the box on technology and trying to use an old mainframe to take new products to market. We all know they're out there!"
What can businesses do to overcome some of these challenges?
The first thing is to have a really strong leadership and really good talent. What can one person do to really make a difference? Well, it really does make a difference when you have a small group of people driving the change. Those people need to be courageous, they need to be in a place where things are safe and they can do new things.
You also have to have a plan. It's ok if the plan changes over and over again. It's ok to be iterative, but if you don't have a plan and you don't know what you are trying to do, then you'll just get activity. Many companies are guilty of this, just throwing up a transformation office and then tonnes of ideas and really interesting activity happens but at the end of the day, the needle has not moved.
Thirdly, put business strategy first before throwing technology at it. A lot of really really interesting ideas happen on the whiteboard before you bring the tech into it. Leave IT out of the room for the first couple of sessions. It sounds simple and we all know we should do it. We've all been in situations where the tech drives us around. We've experienced it. It's out there".
INSTANDA recently launched a new offering on the Azure Microsoft Marketplace. Tell us about it and tell us about some of the challenges it looks to solve
"The INSTANDA offering is very exciting to the insurance industry. INSTANDA starts with the customer first. You'll start by mapping out the customer journey and you develop dynamically with the application how the process is going to work.
Out of this flows underwriting rules and questions, and by the time you're done with your mapping and your questions you actually have a product built in the application. It's a really interactive tool to build out a product using the customer experience at the front and centre.
The second thing is speed to market. It's our number one business outcome and mantra that we have. Insurance organizations are trained, in that, if you're going to put a new product out it could take 9 months, 12 months, sometimes 18 months, because we know there's a lot of regulation. But taking a different mindset to be able to test and learn and put things out in the marketplace and make changes quickly, that's what our application aims to do and its where we really excel.
The INSTANDA pricing model really is aligned to the success of any individual customer. If you are successful. We are successful. We're very much aligned with that.
And we don't add to tech debt. Tech debt is a huge problem out there. We all know that the average organization spends 70% of their IT budget on keeping the lights on and keeping things fresh. We are not adding to that debt. We are a SaaS based platform, we're not asking you spin up new servers to put us within your company and that's how we address some of those major issues".
How would a company use your solution with Azure?
"INSTANDA is built on Azure. If you're an Azure customer it's a very natural fit. It's so easy to add complimentary capabilities within the Microsoft ecosystem. Using logic apps and power BI are natural extensions. You can purchase the INSTANDA application directly from the marketplace. A few clicks and you're using INSTANDA".
How has your relationship with Microsoft helped you scale your business?
"The relationship is very exciting. We spent a lot of time and investment getting the application available and have it accessible within the marketplace. We actually had our first customer within 48 hours of getting our application live on the platform".
Any parting words of wisdom
"The industry's achilles heel is that we've always had a long time to do things and a lot of cash lying around. I often used to get ask the question…Why are insurance systems so big and complicated? We just love to make things super complicated and we've talked ourselves into the fact that things need to take a really really long time.
My challenge to those insurance executives is to try and do things in smaller bites. Use this transformative technology to prove things. If you think you have an idea put it up in 4-6 weeks. It's transformative cycles that are truly going to make the changes. Don't feel like you have to have it all figured out before you give it to your customers".
To contact Greg Murphy email: Greg.Murphy@instanda.com
Or request a demo of the INSTANDA application