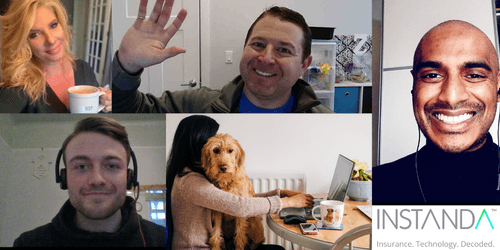 Never have we felt more connected. From everywhere we work, across the World, the INSTANDA team would like to say hello!
At this unsettling time, our aim is to maintain the usual high level of service and support we offer whilst keeping our clients and colleagues safe and healthy, so thankfully, secure remote working is already a fundamental part of our everyday working life here at INSTANDA.
Wherever you are and wherever we are, continuity of service from INSTANDA is one less thing you need to be concerned about. Being a globally deployed cloud-based SaaS platform, working alongside our partner Microsoft Azure we don't envisage any disruption to our business during this period and so all of our clients digital insurance products continue to trade through INSTANDA.
Our usual contact points remain the same so, reach out to us whenever you like, we'd love to talk about how we can help. It'll just be over a virtual coffee instead!
UK: Leon Walker - leon.walker@instanda.com
US: Rob Zuzula - rob.zuzula@instanda.com
EMEA: Karen North - karen.north@instanda.com
Australia: Jon Moody - jon.moody@instanda.com
LATAM: sebastian.borba@instanda.com