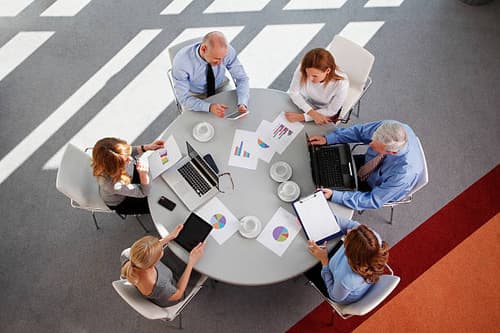 At INSTANDA, we strive to stay at the forefront of insurtech, and encourage best practices — both within our company and our partners'. That's why we recently held a roundtable discussion on customer engagement in insurance to explore how insurers can stay transparent when communicating with customers.
We were joined by a panel of experts: Simon Candy, Sheila Hogan, Roy McLoughlin, Ron Wheatcroft, Stuart Boseley and Ruth Gilbert, who shared their insights.
In this article, we've provided a handy roundup of the discussion so you can learn about the topics at a glance.
If you haven't already, we encourage you to read Part One first as we covered the issues surrounding life insurance and income protection; how to keep customers informed regarding their cover (and whose responsibility this is); and how to pave the way to a Protection Dashboard.
For Part Two, keep reading:
Modern challenges in insurance
Many of the key challenges identified in the roundtable centred on how insurers communicate with their customers. Worryingly, some of the language used by insurance companies can be confusing and may prevent consumers from making informed choices when buying insurance.
Similarly, overcomplicating products is a major hurdle. People are not interested in a product if they get lost in minute details. Therefore, overcomplication can adversely impact customer engagement in insurance.
The roundtable identified technology as a great way of overcoming the communications challenges in insurance, highlighting videos and animations as a great way to clearly communicate information to customers. Education within the insurance industry is also vital — individuals working within insurance companies need to be aware of transparency challenges so that effective change can be made to the way insurers work and relate to their current and potential customers.
How can we offer better protection for customers?
A key point in the discussion was how to communicate the importance of a product, as opposed to the product itself. The panel established that customers more often think about the "life events" they'll need protection from, instead of the actual type of cover they need. Therefore, when communicating with customers, you should highlight these life events instead of specific insurance packages. Examples include:
Illness or injury
Death
Loss of employment
Change of employment
Having children
Divorce or separation
Mortgage changes
Once a consumer understands what event they need to be insured for, they tend to focus on three key questions:
What type of protection do I need?
What level of protection do I need?
Who should benefit from the cover in place?
For insurers, this actually means having to do a lot less work. Instead of having to provide mountains of information, they only need to provide customers with answers to the questions above.
How can technology help improve customer engagement in insurance?
When customers ask those three key questions, they also tend to consider the cover they already had. Based on the experiences shared by our expert panelists, the process of checking existing cover can be problematic. Insurance documents can be difficult to find, and often hard to understand.
So, how can insurers mitigate the issue? According to the panel, a "Protection Dashboard" could be the answer. The concept of a Pension Dashboard is fairly common, allowing consumers to easily see the different pension plans they have. But, it's much less common to hear about an easily accessible online protection dashboard where a consumer can view their types of cover at a glance.
However, although this type of dashboard would solve a host of transparency problems and make communicating to customers about their cover much simpler, it would be enormously difficult to put together.
For a protection dashboard, the main challenge comes from having to incorporate or update different legacy books and systems that companies use for their records. Even if all of a consumer's insurance was with a single provider, that provider may not be able to easily display that information.
What will the new Consumer Duty mean for insurers?
With the Consumer Duty guidelines in place ] , the question on many insurers' minds has been, "what does this mean for me?". We looked at the challenges in insurance that might arise due to Consumer Duty changes.
A core requirement of the new rules is that insurers need to actively work to deliver positive outcomes for their customers. Currently, most companies only pay due regard to the good outcomes and relying on their existing procedures to provide good outcomes.
Our panelists highlighted beneficiary nomination as one of the most important points insurers need to work on to adhere to the new principles. Experience at claim is one of the most important outcome for consumers. For life cover, the most commonly sold benefit and increasingly on a single own life basis, correct direction of the proceeds has become critical for products to work as expected. Now we have one in three couples taking out life cover living as cohabitants with no right to the money under intestacy, the risk has been steadily increasing that many claimants may find they are not entitled expected. Getting money to the right people quickly at the time when they need it most is vital.
Although the responsibility for adhering to the consumer duty rules is with insurance companies, financial education in schools would potentially reduce the number of poor outcomes for consumers and future generations. If customers know the basics about insurance, and what it does, they're much more likely to make informed decisions about the types of cover available, and, if and how it meets their personal circumstances.
To find out more about how her team can help you get the most out of the INSTANDA platform, be sure to contact us, or schedule a free demo.