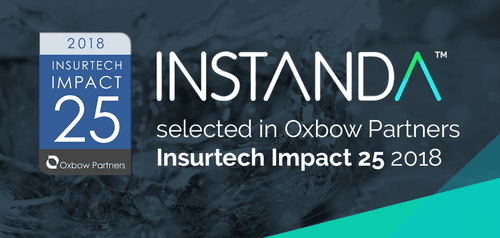 We're delighted to have made the first Oxbow Partners InsurTech Impact 25 list! Oxbow Partners, the management consultancy, is launching the InsurTech Impact 25 Forum. The objective of the Forum is to help insurance executives identify and connect with early stage technology-led companies that could have an impact on their businesses in 2018. The 25 InsurTech Members of the Forum are from across the value chain – distribution, data and analytics operations, and claims and fraud. The 2018 InsurTech Members are:
Distribution: Bought By Many, Guardhog, Neos, wefox, Zego
Data & Analytics: Atidot, Cape Analytics, Carpe Data, Cytora, Digital Fineprint, Flock, Geospatial Insight, Insurdata
Operations: Cognotekt, Instanda, Kasko, Kryon Systems, Risk Genius, Qover, TradeIX
Claims & Fraud: 360Globalnet, Friss, Rightindem, Shift Technology, Tractable
InsurTech Members were selected by Oxbow Partners based on an assessment of both current traction and potential. A minimum 2017 revenue threshold of £100k ensured that Members had progressed beyond ideas, and a limit of £10m ensured that household names were excluded. (Members were not required to pay a fee to be included.) InsurTech Members of the Forum will be invited to exclusive networking events with industry leaders, including the well-regarded Oxbow Partners breakfast series. To mark the launch of the Impact 25 Forum, Oxbow Partners have
published a report
on Friday 23 February outlining the current state of the InsurTech landscape and how insurers can respond in 2018. Key findings are:
The InsurTech landscape has become crowded with over 1,000 InsurTechs now active (depending on definition). When InsurTech emerged as a trend, most startups were Distribution InsurTechs. InsurTechs are now increasingly 'Supplier InsurTechs' – pursuing B2B business models as suppliers to insurers and brokers.
There are no prizes for insurers or investors for spotting InsurTech as a trend. Only those who identify impactful InsurTechs and are able to attract and engage with them effectively and profitably will benefit from InsurTech.
The leading InsurTechs are becoming increasingly selective about who they engage with. A small number of insurers are now seeing a disproportionate share of the quality deal-flow.
Insurers need to get better at engaging with early stage technology businesses; many still lack the culture to prioritise innovation or have cumbersome processes that block it. Fail to act and InsurTechs could return to competing against insurers in 2019, for example by bolting MGAs onto their technology-led businesses.
Chris Sandilands, Partner at Oxbow Partners and lead author of the accompanying report, commented: "We are struck by the number of cluttered InsurTech infographics and sponsored lists floating around the internet showing dozens of logos. We wanted to help our clients spot and connect with the best-in-class InsurTechs. InsurTech Members of the Impact 25 are a highly curated group of businesses we think are well placed to have a material impact on our clients' business in 2018." Steven Mendel, CEO of Impact 25 Member Bought By Many, said: "I'm thrilled Bought By Many has been selected to be an InsurTech Member of the Impact 25 Forum. InsurTech is not just about technological innovation but how we can make a real difference to consumers' experience of an important financial service. It's great to see the Impact 25 companies highlighted as industry pioneers." Paul Jardine, Chief Experience Officer at XL Catlin, said; "The Impact 25 Forum is a tremendous resource to keep up-to-date with the dynamics of InsurTech. It is hard to cut through the noise and hype and to identify companies with whom we should be partnering. I look forward to learning more about the InsurTech Members of the Impact 25 Forum." Source:
Oxbow Partners