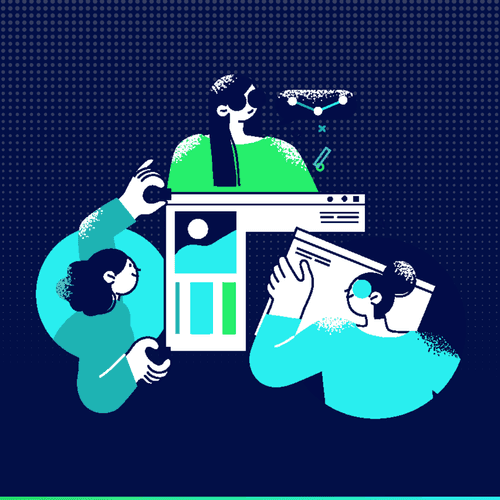 The insurance industry is continuing to show tremendous resilience. The sector grew by 13% between 2020-2022, and that growth shows no signs of stopping, with experts forecasting a CAGR (compound annual growth rate) of 8.5% through 2028.  
But you can't expect your insurance company to see this kind of growth by staying the same. Growth of this scale is fuelled by digital transformation, adaptation, and evolving your offerings to meet changing customer needs.   
Through 2023 we expect a lot to change and have put together a list of the top four insurance trends that we think will be crucial to continued growth. Read on to find out what they are.
1. Hyper-personalised products
Hyper-personalisation is reshaping the insurance industry. Consumers are ready to share their personal data and expect hyper-personalised products in return. 
A Capco poll of almost 14,000 consumers across 13 global markets found that nearly three-quarters of people would share some form of personal data to get cheaper insurance premiums (72%). This could be using a range of technology, with survey respondents happy to share data from fitness and health tests (33%), home smart devices (32%), and wearable tech such as smartwatches (29%). 
Life and Health is perfectly poised to start incorporating the use of smart devices to deliver hyper-personalised insurance. Wearables such as fitness bands can be used to monitor health abnormalities such as changes in pulse, blood pressure, oxygenation, and temperature that can notify the policyholder to take action to avoid health hazards and improve their lifestyle. In turn, policyholders who display healthy lifestyle habits can be rewarded with deductions in their premiums. 
Property and Casualty providers can also look to deliver hyper-personalised offerings by targeting new, underserved markets. For example, Veygo Short Term Car Insurance allows users to insure a car for a day. They can take out temp cover on their own car, or someone else's car, for short-term periods rather than committing to a larger annual policy. 
One other example is Aon Flee who launched a personal car leasing product that includes pay-on-use insurance, giving customers the advantage of saving money when they are not driving. The product offers telematics-based car premiums bundled in, plus the ability for multiple users to share a car and to pay for premiums based on their individual proportionate usage of the car.
2. AI & Automation
AI and automation are being used to simplify end-to-end processes and deliver agile product development in all types of insurance. Zippia predicts that up to 25% of the Insurance industry will be automated by 2025. In addition, 40% of CIOs increased their AI spending in 2021, which is why AI and automation are one of our top insurance trends to watch for 2023.
The coming years will see a significant increase in the number of connected consumer devices. Not only wearables powering hyper-personalisation but also home assistants, car trackers, and more. As these devices become a part of day-to-day life, they will bring with them an avalanche of new data carriers to analyse. Providers will then be able to use AI to understand their clients more deeply and develop propositions their customers will love.
3. Partnerships 
Over the next 12 months, we expect insurers to build more meaningful partnerships with start-ups, external data sources, and more to fuel innovation. These partnerships will help carriers with everything from finding new means of distribution, to big data analysis for underwriting and even testing new offerings that incorporate Internet of Things (IoT) devices.
For example, in the past year, INSTANDA partnered with a number of Insurers to help them speed up the time to market for their new offerings. By building partnerships with insurtechs, carriers can quickly create and test products that will allow them to reach underserved audiences and maintain their market share in a saturated industry. 
Throughout 2023, we will see a shift in the mentality of larger insurance firms. Many are now realising that taking a "move at the speed of insurance" approach is not the way to stay ahead in the market. Those who innovate first are the ones that will see the greatest success.
In addition, forward-thinking carriers who embrace technology in their operations and use partnerships to make those changes quickly will see notable business advantages compared to their rivals. Carriers who are slower to adapt to the pace of change or try to make disruptive changes within their operations, without outside help, will find it more difficult to meet customers' changing needs.
4. Core Insurance Platforms
Insurance, as an industry, has been living in a perpetual state of technical debt. Carriers have continued to make do with insufficient tools and outdated systems due to the disruptive cost of changing them. In 2023, we believe this will start to change.
We expect to see Digital Insurance Platforms replace legacy systems for more and more carriers. Digital Insurance Platforms significantly reduce the number of insurtech software needed to create a 360º process. These platforms can often co-exist and integrate with legacy platforms, allowing insurers to quickly gain advantage from new digital technologies without an immediate need to remove the legacy system.
Digital platforms are leading a shift to customer-centric, fully digital, and cloud-native services that offer end-to-end design, build, underwriting, quote and bind services through one platform.
INSTANDA's core platform supports a shift to customer-centric insurance
The insurance trends we've listed will be the main focuses we see carriers invest in over the next 12 months. By concentrating your efforts on these areas, you can meet your customer's needs and create more efficient operations.
Speed and efficiency are crucial elements in the transformation that we expect to see carriers undergo in 2023, and to help you in these areas; you'll want to consider a premium digital solution like INSTANDA's one-stop Core Insurance Platform. 
The platform enables fast-paced change, allowing MGAs and insurance carriers to design customer experiences using digital touchpoints, configure products in-house, and distribute to market quickly. Additionally, it's a no-code system, ensuring quick implementation and minimal disruption to your operations.
Find out more about INSTANDA Core Insurance Platform and book a free demo here.